Article
BLADELESS LASER CATARACT SURGERY - by Drs. Foster, McCabe, Silverman and Friedman
THE EYE ASSOCIATES, founded in 1980, specializes in restoring and improving sight, and takes great pride in its knowledge, educational standards and quality patient care. The practice also provides cosmetic, dermatology and hearing services for all ages i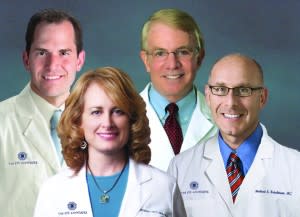 WHAT IS BLADELESS LASER CATARACT SURGERY?
Traditional cataract surgery involves the creation of small incisions made manually with a blade. The Eye Associates is now able to offer bladeless laser cataract surgery with the Alcon LenSx Laser. The LenSx automates the most challenging steps of traditional cataract surgery, such as performing corneal incisions, opening the capsule and softening and breaking up the cataract. The surgeon makes the incisions with the LenSx laser, resulting in a significantly higher degree of precision. Also the advanced imaging system provides both real-time video as well as three-dimensional visualization, enabling the surgeons to custom design a treatment plan that is individually tailored for each patient.
"Our highly skilled and experienced cataract surgeons continually strive to enhance the patient experience."
HOW DOES THE LENSX LASER WORK?
The LenSx is a femtosecond laser, which emits cool pulses to perform customized laser surgery to exacting specifications. It has revolutionized key steps in the cataract procedure and now allows our surgeons to perform cataract surgery that is more precise, predictable and reproducible.
WHY DID THE EYE ASSOCIATES DECIDE TO BEGIN UTILIZING THE LENSX LASER FOR CATARACT SURGERY?
The Eye Associates has always been a leading innovator in cataract surgery and is proud of having the most surgically advanced technology. More doctors choose us for themselves and their patients because we embrace and consistently use the most advanced techniques and equipment. Dr. Harris Silverman, Dr. Robert Friedman, Dr. Cathleen McCabe and Dr. Brian Foster, our highly skilled and experienced cataract surgeons, continually strive to enhance the patient experience. Bladeless laser cataract surgery does just that by adding greater precision and outstanding outcomes.
ABOUT Board certified by the American Academy of Ophthalmology· Bladeless laser cataract surgeons · High-tech lens implant specialists
CONTACT (941) 923-2020
LOCATION
2111 Bee Ridge Road Sarasota, FL 34239
6002 Pointe West Blvd. Bradenton, FL 34209
7915 U.S. Highway 301 N. Ellenton, FL 34222