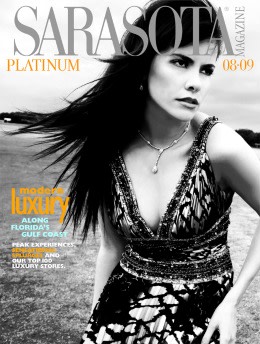 FEATURES
Inside the new penthouse kitchen of restaurateur Michael Klauber. By Ilene Denton
Sarasota style setters share their latest finds and discoveries from around the globe. By Carol Tisch
Curator Mark Ormond asks gallery owner about their latest acquisitions.
FOR LOVE AND POLO
Fashion and romance meet on the field. Photography by Luca Guarneri; styling by Jill Obrochta.
If you pursue your passion, it's amazing what can happen.
When it comes to designing high-end custom jewelry, the sky's the limit. By Carol Tisch
Our detailed, must-save guide to a dazzling array of luxury retailers. By Carol Tisch
DEPARTMENTS
For guest editor Carol Tisch, true luxury living is about unique experiences.
WHAT'S HAUTE
The splurges on our wish list this season.
Spas today cater to a multitude of health and fitness needs, as Su Byron found out.
Bertha Palmer was Sarasota's first--and most important--socialite.