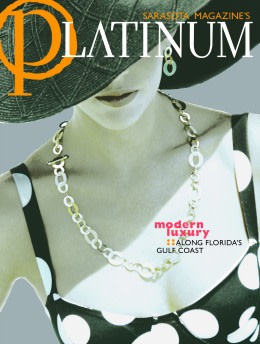 FEATURES
Carol Tisch gets the latest on fine homes, getaways, yachts and more from the editors at Robb Report.
Jewelry takes a dazzling turn with unique pieces that are bright and beautiful. Photography by Mary McCulley
Two transplanted New Yorkers transform a home at The Oaks into the perfect setting for their important collections of antiques and art.
Automotive expert Robert Bowden chooses the dream cars of today.
SCREEN STARS
Our favorite images from the event that epitomizes our city's growing glamour--the Sarasota Film Festival. Photography by Rebecca Baxter
Writer Marty Fugate dreams up a bachelor pad with all the latest gadgets for truly modern living. But will it help our single guy win the girl?
THESE SHINING HOURS
A day in the life of an anything-but-desperate Sarasota housewife. Photography by Mary McCulley, fashion editing by Jill Obrochta Dambro
The Revere House is an architectural icon--but it took contemporary creativity to preserve it for our comfort-loving age.
Come with us behind closed doors for a peek at the rarified services and goods you can get right here in Sarasota--if you know the password.
DEPARTMENTS
FROM THE EDITOR
Even our style-savvy guest editor was surprised by the level of luxury our seaside city now affords. By Carol Tisch
Plan your year with our lineup of dream destinations around the globe. By Megan McDonald
Sarasota's star chef, Giuliano Hazan, shares his secrets for enjoying great food--and life. By John Bancroft
The new, high-tech medical tests you shoudl have--even if you have to pay for them yourself. By Marty Fugate
RSVP
Our city's most elegant tables may have been set in the Roaring '20s by John and Mable Ringling.