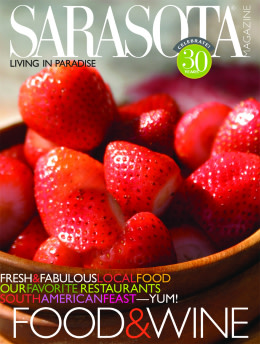 FEATURES 
Head down South America way with a master chef and gourmet dining club. By Marsha Fottler
CRITIC'S CHOICE
Our food and wine critic's annual roundup of the best restaurants in town right now. By John Bancroft
A shopping and cooking session with a Ritz-Carlton chef celebrates our city's abundance of fresh and local food. By Megan McDonald
A wondrous Ritz-Carlton Beach Club home pays playful tribute to the sea. By Ilene Denton
In Chapter 6 of comic novelist Robert Plunket's new mystery series, designer Mr. Spryke gets more entangled in murder, the recession and some of Sarasota's snootiest social circles.
DEPARTMENTS 
Meal deals we love. By Pam Daniel 
Have kitchen, will cook with up-and-coming chef Blake Ellis.
Carol Tisch examines Palm Avenue's very own shopping stimulus package, plus healthy new food buys.
More then ever, garage sales are just the ticket, and Mr. C is the guy to guide you through them.
LIMELIGHT
Rebecca Baxter snaps people and parties, plus our newest "Fashion Statement."
Richard Storm finds European flair in downtown's new Citrus Square project.
Top neighborhoods, great deals and record sales in real estate, and eco-friendly home decor.
A kitchen makeover that's great and gorgeous. By Carol Tisch 
When shoulder problems nearly sidelined a prominent physician, he teamed with a local fitness legend for a rehab regime that beats surgery. By Su Byron 
Golf columnist David Grimes plays Bent Tree Country Club.
John Bancroft savors Suzette's French flair and Chutney's exotic blends, plus news on this month's Florida Winefest and chef Judi Gallagher's recipe for grapefruit ceviche.
CALENDAR
Kay Kipling's roundup of this month's arts and entertainment events.
Illustrator Regan Dunnick's fun map of downtown's Farmer's Market.