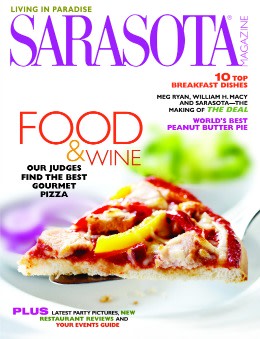 FEATURES
Su Byron gets up early to find the 10 top breakfast dishes in town.
Charlie Huisking unreels the story of how the Sarasota Film Festival, William H. Macy and a band of believers brought Macy's latest movie to life.
A panel of hungry judges taste-tests its way to Sarasota's greatest gourmet pizza. By Megan McDonald
Sarasota's little Mennonite community enriches us all with its heritage of hospitality and home cooking. By Kate Pursell 
Longtime Sarasotan Nancy Oliver gets an Oscar nod for her debut screenplay.
DEPARTMENTS
FROM THE EDITOR
Of food, wine and a great new diet. By Pam Daniel
News and names to boost your civic I.Q.
* Hot Seat
Carol Tisch shops our finest food emporiums, plus fashion finds by Jill Obrochta.
An ambitious new town is rising near Naples. Richard Storm heads to Ave Maria to take a look.
What does novelist Stephen King have to say about Sarasota in his latest thriller? Plenty--and it's pretty scary. Mr. C gets the scoop.
LIMELIGHT
Rebecca Baxter snaps people and parties, and our "Social Detective" finds nature is fashionable at the Palm Ball.
Kay Kipling's calendar of arts and entertainment, plus On Exhibit by Mark Oromond.
* Art Buzz
Everything you wanted to know about sex after 60 but were afraid to ask. By Su Byron
John Bancroft samples the new Fred's and downtown's Arosa, and chef Judi Gallagher picks flowers good enough to eat.
NATURAL SELECTION
Our artist's sketchbook of Sarasota flora and fauna.