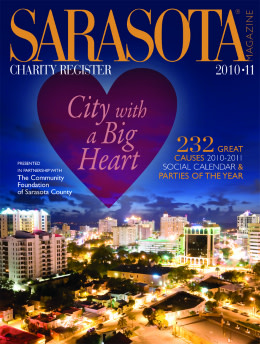 Welcome to our 10th annual Charity Register.
The Community Foundation's Ruth Lando and Susie Bowie on the 10 questions every donor should ask.
Competitors become collaborators, as local media unite to help those in need.
SHOPPING FOR A CAUSE
Style editor Carol Tisch finds great gifts at local museums and not-for-profits shops.
Open-hear surgery is no laughing matter-- except when the patient is our own Mr. C.
Presenting our annual "Gala Gold" awards, plus a fun look at some party animals and social saints.
Meet five Sarasotans who found the right help at the right time thanks to local charitable organizations.
Highlights of this season's galas and special event.s
Our comprehensive listing of Sarasota non-profits. Edited by Hannah Wallace
Meet Tony D'Amato, one of the "kids" at the Boys and Girls Club of Sarasota County.