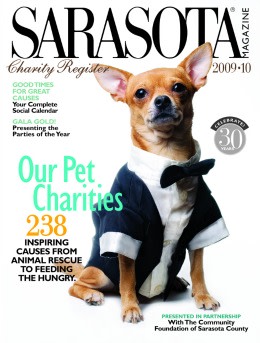 2009 - 10 CHARITY REGISTER
Yes, you can change someone's life--Ilene Denton tells how.
Counting the way the Community Foundation of Sarasota County made a difference this year. By Ruth Lando
An estate planning expert offers insight on the latest in philanthropy and the law.
What would social life be here without our town's inimitable "Gossip Girls"? Yes, they're his competition, but Mr. C loves them all.
In times like these, folks in the nonprofit trenches are struggling to keep their causes alive. By Megan McDonald
From best auction item to best chairperson, we applaud the winners of the 2008-09 party season.
Your guide to this season's many galas, luncheons and more.
Our comprehensive listing of Sarasota nonprofits. Compiled by Hannah Wallace
Every kid deserves clean pajamas and a bedtime story, and a new program in town delivers just that. By Ilene Denton