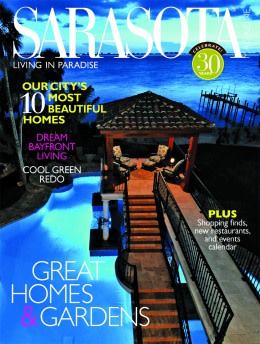 FEATURES
Beauty may be in the eye of the beholder, but it would be hard to find homes any prettier than these.
An expansive bayfront home blends classic Mediterranean Revival design with room for three generations. By Ilene Denton
A Venice home mixes Japanese-inspired geometry and state-of-the-art green living.
A Sarasota couple surrounds their restored cottage with hand-picked tropical plants.
DEPARTMENTS
Pam Daniel reveals how we chose Sarasota's most beautiful homes.
Joseph Arnegger is a voice for contemporary art.
Carol Tisch shops for everything outdoor, from furniture to planters to atmospheric lighting.
Mr. C makes a pilgrimage to the historic home of his ancestors in Augusta, Ga.
LIMELIGHT
Rebecca Baxter snaps people and parties, and our "Social Detective" takes sides in the war over gerrymandering.
Top neighborhoods, great deals and record sales in real estate, plus eco-friendly home decor.
A Siesta Key dining room makes the most of great water views. By Carol Tisch
A Sarasota man makes the long journey back from a brain hemorrhage. By Su Byron
CALENDAR
Kay Kipling's roundup of this month's arts and entertainment events.
Food critic John Bancroft finds sushi heaven at Vizen. Plus a Broadway Bar bargain and chef Judi Gallagher's recipe of the month.
Illustrator Regan Dunnick's fun map of Marie Selby Botanical Gardens.