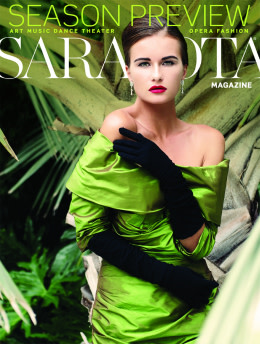 FEATURES
Our favorite classes for kindling your creative spirit. By Hannah Wallace
BEST OF THE SEASON
Your cultural planning just got easy, with Kay Kipling's guide to the standout shows and stars heading our way.
Our love letter to nifty '50s-inspired fashions. Photography by Matt Dunn, styling by Lissa Murphy
How Iain Webb is making Sarasota Ballet a national star. By Charlie Huisking
Legendary National Geographic photographer Joel Sartore's haunting images of endangered Florida wildlife.
Robert Plunket grew up quickly when his family moved to Castro's new Cuba.
DEPARTMENTS 
FROM THE EDITOR
A fresh, fun breeze is blowing through our arts scene. By Pam Daniel
The latest scoop, including Charlie Huisking's "Arts Capital," Carol Tisch's shopping finds, one hot dish from chef Judi Gallagher-- and more.
* Top Tickets

*

 Trombone Shorty
Mr. C goes to a Tea Party.
From best buys to amenities, your guide to downtown condo living. By Carol Tisch
Fitness and health news you can use. By Hannah Wallace
Kay Kipling's calendar of November's best arts and entertainment.
John Bancroft finds genuine French fare at 62 Bistrot, Floribbean Fun at the Sun House and a weekend breakfast at SKOB.
Photographer James Phillips discovers some strange companions at the Ringling Museum.