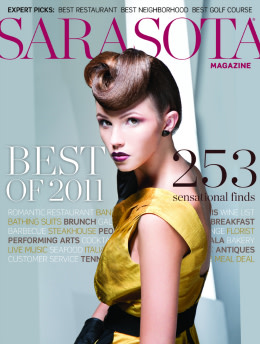 FEATURES
Art meets fashion in these images from a Ringling College photography class.
Want to slip into something comfortable for $3 million or so? Robert Plunket presents some outrageous bargains in Florida luxury real estate.
American Idol, it isn't. But the seniors taking the stage in a retirement community premiere fight their own battles to come out winners. By Charlie Huisking 
From how new restaurants to great shops and entertainment, our readers, editors and expert insiders pick the top discoveries and diversions of the year.
DEPARTMENTS 
On choosing the "bests," from restaurants to views.
INSIDER
The latest scoop, including Charlie Huisking's "Arts Capital," Carol Tisch's shopping finds, one hot dish from chef Julie Gallagher--and more.
Mr. C dishes up the best of Sarasota's little Amish community, Pinecraft.
Fitness and health news you can use. By Hannah Wallace 
Kay Kipling's calendar of May's best arts and entertainment events.
John Bancroft says a hearty "Bonjour" to Brasserie Belge, plus top tempura at DaRuMa and a good deal on pizza at Whole Foods.
In our city, even the dogs have style. Photo by Ted Made