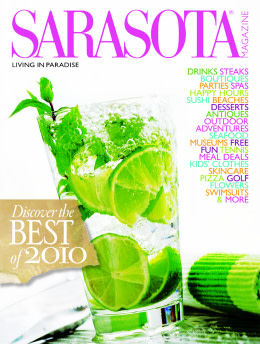 FEATURES 
Bob Bowden finds the latest and greatest luxury cars to fulfill your driving dreams.
Photographer Dick Dickinson takes us along as he dives the living waters of the Gulf.
Associate editor Hannah Wallace interviews her mom, longtime Asolo Rep state manager Marian, on the eve of her retirement.
Presenting scores of sensational reasons to love this city, from our annual reader's picks of top shopping, dining and experiences to our editors' honor roll of "Best of the New."
DEPARTMENTS
What's new--and what's enduring--in 19 years of celebrating Sarasota's "Bests." By Pam Daniel
Charlie Huisking's "Arts Capital," our five top tickets for May, newsmakers, and more.
Carol Tisch prowls local shops for animal-inspired art, home accessories and jewelry, plus people and news on the retail front.
Top neighborhoods, great deals, and record sales in real estate, plus eco-friendly home decor. By Ilene Denton
South Africa meets Sarasota in a bright and airy condo redesign. By Carol Tisch
John Bancroft scores a great catch at the new Owen's Fish Camp. Also: magic at Morel and a Good Deal at Chips.
Quick medical teamwork saves a life when an aneurysm strikes a young a mother. By Su Byron 
Kay Kipling's guide to the month's art and entertainment events.
Illustrator Regan Dunnick's fun map of North Tamiami Trail.