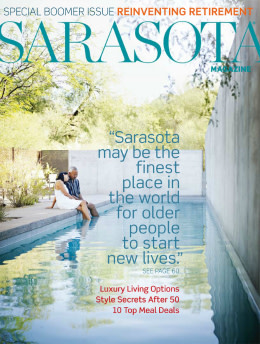 FEATURES
Yes, you can dine on a dime! Su Byron finds 10 great meals for $10 or less.
Sarasota is Ground Zero for the trend that will define our era: the aging of the world's population. An excerpt from journalist Ted Fisherman's much-acclaimed new book.
Meet five over-80 men and women whose lives are still action-packed. By Pam Daniel. Photography by Ted Mase 
Boomer women have a secret weapon on Sarasota: hip young stylists who help them keep their fashion edge. By Carol Tisch 
Back in the heady 1960s, Robert Plunket was a film student shooting for stardom. But then an unknown kid named Richard Gere stole his spotlight.
Demographic expert Brad Edmondson tells us how the baby boomers will put their own inimitable spin on Sarasota retirement.
DEPARTMENTS 
Why Sarasota is the star of a new best-seller about global aging. By Pam Daniel
The latest scoop, including Charlie Huisking's "Arts Capital," Carol Tisch's shopping finds, one hot dish from chef Judi Gallagher-- and more. 
* Malcolm Gladwell Adds to the Conversation
* Artist's Pad
Mr. C is already planning his trailer park retirement.
Carol Tisch reports on the new retirement living options, Sarasota style.
Fitness and health news you can use. By Hannah Wallace
Kap Kipling's calendar of March's best arts and entertainment events.
John Bancroft dines at the new Pomona and Square 1 and finds a good deal at long-established Michael's on East.
The eternal allure of spring training.