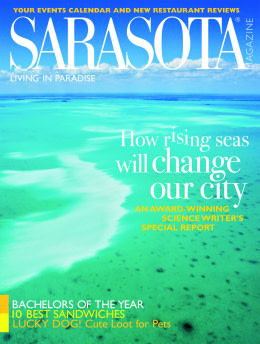 FEATURES 
Sometimes, a sandwich is more than just a sandwich; these are the tastiest in town.
Hold on to your hats, ladies; it's time to feast your eyes on our bachelors of the year.
From the Chicago History Museum, a look at the opulent clothing that made Sarasota's Bertha Palmer world-famous for her fashion-sense.
Award-winning science writer Craig Pittman reports on what rising sea levels could mean to Sarasota--sooner you might think.
DEPARTMENTS
Can we talk about our relationship? By Pam Daniel
News and notes from the cultural coast, including Charlie Huisking's "Backstage Pass," the month's top five arts and entertainment picks, and more.
Super shopper Carol Tisch noses out everything you ever wanted for your pampered pooch.
From the Amish to the arty, Mr. C has the party scene covered.
Top neighborhoods, great deals, and record sales in real estate, plus eco-friendly home decor. By Ilene Denton
A Rivo penthouse gets a major makeover and a streamlined new look. By Carol Tisch
John Bancroft raves about Andrea's, plus cool calamari at Galileo and a good deal at Pei Wei. And chef Judi Gallagher serves up jicama salad.
Su Byron promises dentistry without fear thanks to the latest techniques and tools.
Kay Kipling's guide to this month's arts and entertainment events.
Illustrator Regan Dunnick's fun map of Myakka River State Park.