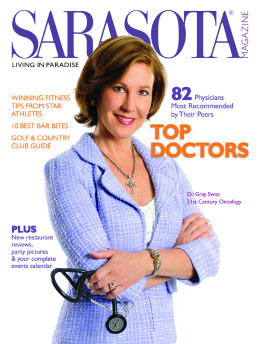 FEATURES 
In the mood for a bite at the bar? Su Byron finds the tastiest treats to go with your drinks.
Six local sports stars share tips to put you at the top of your game. By Hannah Wallace 
Novelist Bob Morris opens a box full of memories of fishing with his father.
Need a good doctor, star? Turn to our exclusive annual listing of the area's finest physicians from healthcare research firm Castle Connolly. Plus, four local doctors reflect on medical milestones in their career.
DEPARTMENTS
Opening notes from our new owner--and original founder--Dan Denton.
SARASOTA INSIDER
Charlie Huisking's "Arts Capital," our five top tickets for June, newsmakers and more.
* Art Seen 

* Fit City
Style editor carol Tisch shops Southside Village; plus great Father's Day gifts and scoop from local storefront.
The more it changes, the more it remains the same-- we're talking, of course, about the crisis in healthcare. 
Top neighborhoods, great deals and record sales in real estate, plus eco-friendly home decor. By Ilene Denton
Husband-and-wife team Frank and Anne Folsom Smith collaborate on the perfect family room--their own. By Carol Tisch
John Bancroft spends a blissful night in Morocco and fishes for flavor at the Lazy Lobster. Plus a Good Deal at the Blue Dolphin Cafe and chef Judi Gallagher's fresh salmon on watercress.
Carmen Ramos wasn't a prime candidate for a stroke, but she had one, anyway. It took a team to pull her through. By Su Byron 
Kay Kipling's guide to this month's art and entertainment events.
Illustrator Regan Dunnick's fun map of North Venice Jetty Park.