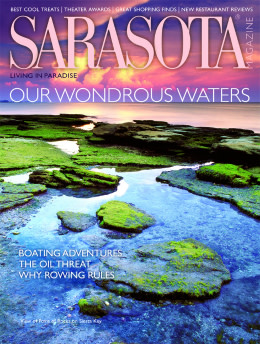 FEATURES
Chill out with cool summer treats, from soup to ceviche. By Su Byron
Parks and recreation chief John McCarthy paddles into the sunset and discovers the enchantment if Sarasota's bays after dark.
ROWING RULES
Our at Benderson Park, a giant lake is attracting athletes--and economics opportunity--to our city.
Ship to shore styles at the new Sarasota Yacht Club. Photography by Mary McCulley.
Theater critic Kay Kipling picks the highlights of the 2009-2010 season.
Longtime Life magazine editor and part-time Sarasota resident Ralph Graves reminisces about close encounters with larger-than-life figures, from LBJ to Henry Luce.
Award-winning environmental reporter Craig Pittman visits the oil-threatened beach of his hometown in the Panhandle and considers what's at stake.
DEPARTMENTS
The painful discovery that oil and water don't mix. By Pam Daniel
Charlie Huisking's "Arts Capital," our five top tickets for summer, newsmakers and more.
Hit the beach with style editor Carol Tisch as she scores the latest in great beachwear and sizzling shades.
Summer reading heats up with books by three local celebrities.
Top neighborhoods, great deals and record sales in real estate, plus eco-friendly home decor. By Carol Tisch
A St. Armands home embraces flexible outdoor living. By Carol Tisch
John Bancroft discovers Cafe Amici is bellisima. Plus beach bites at Blu Smoke, a Good Deal at Le Macaron, our very own rum distillery and chef Judi Gallagher's refreshing cantaloupe-mint salad.
Parkinson's disease almost had Dan Wohlers down for the count. Then came deep brain stimulation. By Su Byron 
Kay Kipling's guide to this summer's art and entertainment events.
Illustrator Regan Dunnick's fun map of Snook Haven.