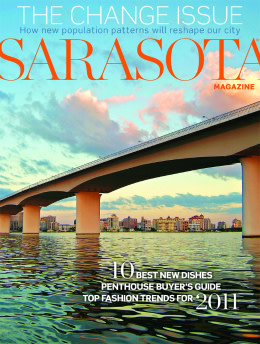 FEATURES
From Kobe beef burgers to octopus appetizers, Su Byron finds the hottest new dishes in town.
Demographics expert Brad Edmondson scrutinizes the changing face of our city.
Beneath today's condo towers and mega homes lies the wild Sarasota the early explorers saw. By John McCarthy
Every wardrobe needs these six new style icons fro 2011. Photography by Matthew Holler
Behind the scenes of Sarasota's sizzling CAN dance competition with our very own Fred Astaire--we're talking, of course, about Mr. Chatterbox.
DEPARTMENTS
Changes and challenges in the New Sarasota. By Pam Daniel 
The latest scoop, including Charlie Huisking's "Arts Capital," Carol Tisch's shopping finds, one hot dish from chef Judi Gallagher-- and more.
Room at the top? Carol Tisch reports on the changing penthouse market.
Fitness and health news you can use. By Hannah Wallace
Kay Kipling's calendar of January's best arts and entertainment.
John Bancroft follows popular chef Darwin Santa Maria to Siesta Key, plus goin' South at Retropolitan, a good deal at Libby's, and more.
Photographer Peter Acker captures the old and new Sarasota in a single image.