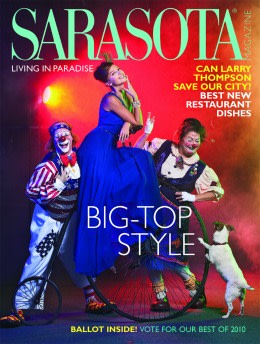 FEATURES
10 BEST
From ahi tuna burgers to sea bass to black rice, Su Byron tempts our tastebuds with hot new menu items.
CLASS OF 2010
Hannah Wallace gets inside the heads of some of our top area grads.
A NIGHT AT THE CIRCUS
High-flying circus style. By Julie French
TALES FROM THE GOTHIC ROOM
The current Ringling Museum exhibit sparks writer Robert Plunket's interest in the Gilded Age--especially in one true story of wealth, marriage and ambition.
CAN LARRY THOMPSON SAVE SARASOTA?
The Ringling College president has made his school an art star; now he's preaching the gospel of art and design as a way to rescue our economy. By Charlie Huisking
DEPARTMENTS
FROM THE EDITOR
A panel of local pundits makes New Year's resolutions for our city. By Pam Daniel
ARTS CAPITAL
News and notes from the cultural coast, including Charlie Huisking's "Backstage pass," the month's top five arts and entertainment picks, and more.
BOUTIQUE
Carol Tisch discovers a new world of retail along University Parkway and in Lakewood Ranch, along with some fab fun fur toppers.
MR. CHATTERBOX
Nobody threw a party like janet Kane, and that was true at her memorial service, too.
LIMELIGHT
Rebecca Baxter snaps people and parties, and our "Social Detective" discovers teh true spirit of giving at the annual Philanthropy Day luncheon.
LUXURY HOMEFRONT
Top neighborhoods, great deals and record sales in real estate, plus eco-friendly home decor.
ONE GREAT ROOM
Art and architecture combine in a bedroom that masters the transition from the North to Florida.
FRESH AIR AND FREEDOM
The unique story of the Out-of-Door Academy, now celebrating its 85th year.
FOOD AND WINE
John Bancroft applauds Euphemia Haye's fine dining tradition and samples some seriously good barbecue.
GOOD MEDICINE
A mom-on-the-go gets her roove back with innovative new hip surgery. By Su Byron
CALENDAR
Kay Kipling's guide to this month's arts and entertainment events.
SENSE OF PLACE
Illustrator Regan Dunnick's fun map of Gulf Gate.