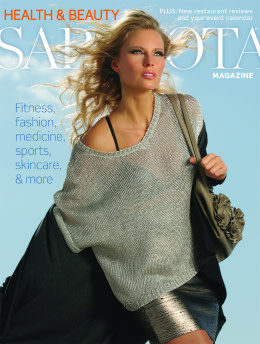 FEATURES
Thanks to these caregivers and trailblazers, our town is a healthier place.
Sportswear for bodies in motion. Photography by Mary McCulley 
Sarasota's got game, with a growing national reputation as a sports and fitness utopia. By Hannah Wallace 
You'll look fabulous with these top new beauty treatments.
Novelist Leslie Glass shares the story of her family's journey through addiction.
DEPARTMENTS
Love lights the way through one woman's illness. By Pam Daniel 
The latest scoop, including Charlie Huisking's "Arts Capital," Carol Tisch's shopping finds, one hot dish from chef Judi Gallagher-- and more.
Let's all go to the circus! Mr. C leads the tour of our Circus City.
Carol Tisch reports on finding the Sarasota island of your dreams, from upscale to laid-back.
John Bancroft goes tropical at Tommy Bahama's, tries Tuscan at Salute! and sips Bollinger bubbly.
Ted Mase snaps a new breed of downtown sightseers.