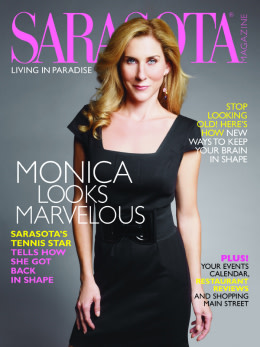 FEATURES
"No" to read lipstick and mommy jeans, "yes" to lasers and modern cosmetics-- and other anti-aging do's and don'ts. By Su Byron
Photographer Andrea Hillebrand gets up close in Myakka City with those beautiful Lipizzan stallions and their trainers.
In an excerpt from her candid new book, Sarasota tennis star Monic Seles reveals how she overcame years of struggling with destructive eating to become fit and happy again.
Take a peek at a colorful Seaplace vacation condo that looks good enough to eat. By Ilene Denton
Will the show go on when our very own Bob Plunket plays a crucial role in the Sarasota Opera's La traviata?
DEPARTMENTS
Lessons from a hip-hop intern. By Pam Daniel
News and notes from the cultural coast, including Charlie Huisking's "Backstage Pass," the month's top five arts and entertainment picks, and more.
Carol Tisch finds great fashion, furniture and food along Main Street, plus evening bags to make your night.
Of sex, scandal and the new film about Gov. Charlie Crist.
LIMELIGHT
Rebecca Baxter snaps people and parties, and our "Social Detective" uncovers just how Sarasota's socialites stay fit and healthy.
Top neighborhoods, great deals and record sales in real estate, plus eco-friendly home decor.
A talented couple restores and refreshes a historic Sarasota cottage.
John Bancroft goes ashore for seafood at Main Street Oyster Bar and urban Reef and lands a good deal at Daawat.
Su Byron on the latest tools to keep your brain in shape.
Kay Kipling's guide to this month's arts and entertainment events.
Illustrator Regan Dunnick's fun map of the Sarasota YMCA's Evalyn Sadlier Jones Branch.