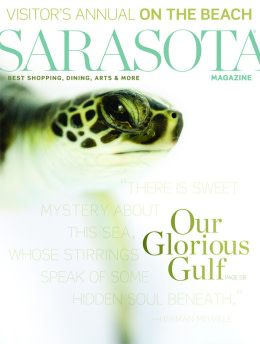 FEATURES
It's the question every eager visitor asks. We share the answers from our restaurant-loving readers and Facebook fans.
In the aftermath of the oil spill, award-winning writer Peter Gallagher pens an ode to the precious body of water that surrounds us. With photographs by Carlton Ward Jr.
A shabby chic Casey Key cottage is the perfect playground for a young family. By Carol Tisch
Discover the many charms of this historic fishing village. By Kap Kipling
DEPARTMENTS 
For all of us, this was the year of the Gulf. By Pam Daniel
Mr. C and illustrator Regan Dunnick creates a social climber's climb to Sarasota's best neighborhoods.
VACATION BASICS
Just the facts, from beach safety to getting around to the best spots to toast the sunset.
Presenting 21 hot new ways to shop, dine and have fun in this best of all possible cities. By Carol Tisch 
Carol Tisch explains why you shouldn't leave town this year without buying a vacation home.
Photographer Pat Nebel shows us how Christmas looks here.
Our comprehensive listing of attractions, beaches, culture, sports and recreation and accommodations.
* Beaches