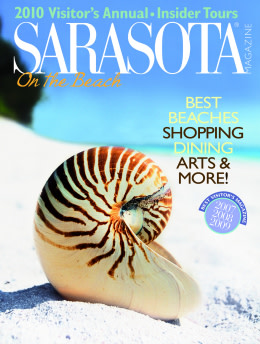 FEATURES 
An iconic Sarasota School receives a loving update.
A FESTIVAL OF ART
There's always something to celebrate on Sarasota's legendary cultural scene. Plus: your smart guide to arts and entertainment. By Kay Kipling
GO NATIVE
Follow the style editor Carol Tisch to find uniquely Sarasota designs and acquisitions. Plus: your smart guide to the region's shopping destinations.
Amy Bennett Williams recalls how her mother opened her eyes to the region's natural wonders. Plus: your smart guide to Sarasota's natural and cultural attractions.
From best outdoor fun to best beachcombing, the guru of Sarasota beaches, parks, and recreation manager John McCarthy, picks the perfect stretch of white-sand shore for you.
Dining critic John Bancroft reports on the culinary trailblazers who have made us a great restaurant town.
Does your Sarasota dream include buying a home on the water? Real estate editor Ilene Denton offers expert advice.
Our sensational short list of what to do, see and taste right now in five happening hot spots, from downtown Sarasota and Venice to our offshore keys. By Carol Tisch
TOP RESORTS
You can rest easy--and play in style--at these outstanding local hotels and vacation properties. By Hannah Wallace
DEPARTMENTS 
Pam Daniel shares her passion for vintage Florida art.
Come along on Mr. C's new mystery tour of "Forbidden Sarasota."
LIMELIGHT
Rebecca Baxter snaps people and parties, plus UnGala Gala Fashion Statement.
Plunge into paradise with 20 quintessentially Sarasota pleasures. By Hannah Wallace
Regan Dunnick's fun map of Greater Sarasota.