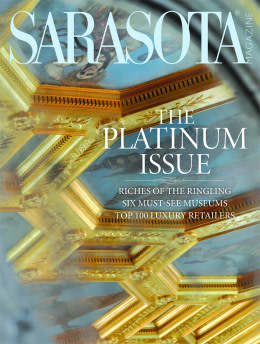 PLATINUM ISSUE
Circus tycoon John Ringling and his spectacular collection, John and Mable's glamorous life at Cà d'Zan, and introducing the Ringling Museum's new curator of modern art, Matthew McLendon. By Robert Plunket and Charlie Huisking
The Ringling's first director, "Chick" Austin, worked his magic on a little-known attraction in the hinterlands of Sarasota. By Kay Kipling 
Around the world, art museums are becoming destinations not only for their collections, but for their innovative design. Carol Tisch leads a tour.
An unforgettable Sarasota wedding unites not only a young couple, but two remarkable cultures.
Your comprehensive guide to Sarasota's top luxury retailers. By Carol Tisch
DEPARTMENTS 
Pam Daniel on why museums matter-- more than ever.
Artful acquisitions for you and your home. By Carol Tisch
James McManemon Jr., general manager of the award-winning Ritz-Carlton, Sarasota, on luxury and the legendary Ritz mystique.
In the circus, things aren't always what they seem.