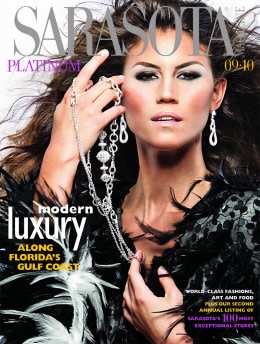 FEATURES
Sarasota joins the ranks of the globe's arts showcases with the first-ever Ringling International Arts Festival.
Style setters everywhere have fallen in love with African colors, designs, wines and more.
Four of Sarasota's top chefs create the food and wine pairings of their wildest dreams. By Su Byron
What if you could have anything you wanted, created specially for you? You can--right here in Sarasota. Carol Tisch tells how.
Power styles this season are black--and beautiful. Photography by Peter Langone
Our annual guide to Sarasota's best luxury retailers. By Carol Tisch
DEPARTMENTS
Guest editor Carol Tisch on what luxury means right now.
From watches to suits to automobiles, this year's must-haves.
Sarasota weddings have never been more personal--or perfect.
That other legendary couple of Sarasota's Roaring '20s--William and Marie Selby.