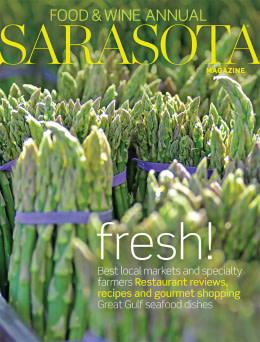 FEATURES 
Top Sarasota chefs share their favorite ways to cook straight-from-the-Gulf seafood. By Brian Ries 
Su Byron and Marty Fugate report on the market and small farmers feeding our hungry for locally grown produce and food products.
Can restaurateur Sean Murphy wow the cosmopolitan crowd at New York's prestigious James Beard dinner? Robert Plunket tags along to find out.
Actor Christopher Plummer, this year's Sarasota Film Festival Honoree, talks with Kay Kipling about his distinguished career.
DEPARTMENTS 
Small miracles from the Mother Earth. By Pam Daniel 
The latest scoop, including Charlie Huisking's "Arts Capital," Carol Tisch's shopping finds, one hot dish from chef Judi Gallagher--and more.
* Top Tickets* The Art of Reinvention
Mr. C discovers how dead celebrities are handling the afterlife.
Lakewood Ranch responds to a changing market by keeping size down and quality high. By Carol Tisch 
Fitness and health news you can use. By Hannah Wallace 
Kay Kipling's calendar of April's best arts and entertainment events.
John Bancroft savors innovation at Derek's, bar bites at MartiniVille and affordable sushi at Ichiban.
* What I'm Drinking 
Family roots run deep at Worden Farm.