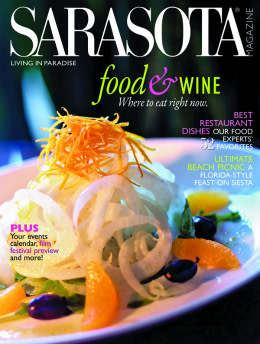 FEATURES 
We happily did the research; now it's your turn to enjoy 52 great Sarasota restaurant dishes-- one for every week of the year.
We host the ultimate Siesta Key beach picnic, with great catering, great company, and a simply spectacular setting.
Programmers Tom Hall and Holly Herrick give a sneak preview of the hottest films at this year's Sarasota Film Festival.
DEPARTMENTS 
Pam Daniel shares some food memories from far and wide.
Charlie Huisking's "Backstage Pass," this month's top five things to do, an interview with artist James Rosenquist and more.
Beautiful downtown Venice beckons shopper extraordinaire Carol Tisch, who also scores perfect hats just in time for Pique-nique.  
Mr. C and Ann Coulter in the same room? Watch out!
Top neighborhoods, great deals and record sales in real estate, plus eco-friendly home decor. By Ilene Denton 
Two top designers create a dining room that serves up sophistication at the Concession. By Carol Tisch
John Bancroft takes a wild culinary ride at Lan and dives into Divino, plus chef Judi Gallagher's easy but zesty tomato sauce.
When East meets West for an integrated medical approach, the patient benefits. By Su Byron
Kay Kipling's guide to this month's art and entertainment events.
Illustrator Regan Dunnick's fun map of Cortez fishing village.