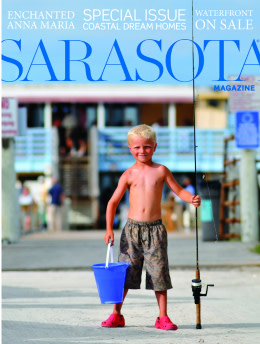 FEATURES 
A light-filled modern home designed for an art-loving couple shows that small is the new big. By Carol Tisch
Breezy West Indian influences bring new life to a historic Siesta Key property. By Carol Tisch
A creative couple lives and works in the newest evolution of an old Rosemary District space. By Kay Kipling
Life is just about perfect on Anna maria Island, where sea, sand and simple pleasures brighten every day. By Robert Plunket and Su Byron
DEPARTMENTS 
A fresh new look for a fresh new season. By Pam Daniel 
What's hot and happening in town right now, including Charlie Huisking's "Arts Capital," Carol Tisch's shopping finds, one hot dish from chef Judi Gallagher-- and more.
Our gossip columnist and Real Estate Junkie spills about his love affair with vintage 1950s homes.
Carol Tisch reports on great buys along the waterfront.
Fitness and health news you can use. By Hannah Wallace
Kay Kipling's guide to October's best arts and entertainment.
John Bancroft feasts at Fleming's and samples seafood at Anna Maria's Waterfront Restaurant. Plus, wine buys and more.
A not-your-usual sunset shot by photographer Ted Mase.