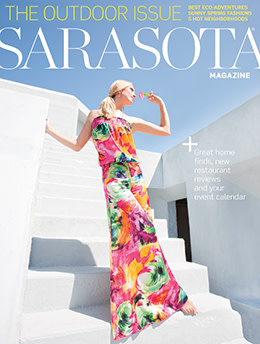 FEATURES
Beau Benton and the Dirty Boots Adventure group explore the backcountry of Myakka River State Park.
Bruce Marsh's large-scale landscape paintings capture nature's varied beauty and man's persistent encroachment.
Now is the time to snag a home in these up-and-coming locations. By Robert Plunket.
BEAUTY ON THE BATTERIES
The latest spring styles brighten the crumbling old forts on Tampa Bay's Egmont Key. Photographs by Troy Plota.
DEPARTMENTS
Pam Daniel remembers a night lit up by fireflies.
The latest scoop, including Charlie Huisking's "Arts Capital", Carol Tisch's outdoor shopping finds, one hot dish from chef Judi Gallagher-- and more.
* Top Tickets

*

 Who's in Store: Andrew Gwilliam 
* My World 
* Poll 
An emergency stay in a hospital gives Mr. C a dose of socialized medicine.
Style blogger Heather Dunhill shares the looks and loot she loves.
The latest news in dental health and treatments. By Hannah Wallace.
A Polo Club house wins the highest LEED Platinum rating in the world, plus real estate news and advice for condo boards considering a building makeover.
* On the Homefront

*

 Top of the Market 
Kay Kipling's calendar of April's best arts and entertainment events.
John Bancroft celebrates the return of a master chef at the sizzling new Darwin's on 4th. Plus: tasty seafood combos at Half Shell and cheers to this month's Florida Winefest.
 * Hot Dish 
If it's Sunday in spring, it's showtime for the Ski-A-Rees.