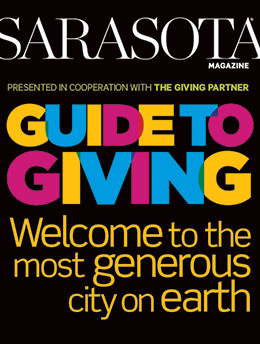 FEATURES
Rita Greenbaum pend a true confession about competing in the Community AIDS Network's fund-raising "Dancing with Our Stars."
With just a day-and-a-half to give, legions of local volunteers, nonprofit staffers and donors raced towards a nail-biting finish for philanthropy. By Hannah Wallace.
Our fashion guru, Heather Dunhill, gets you ready for the social season with tips, trends and advice from style and beauty experts.
When Art Nadel's investment scam rocked our city, those closest to him pleaded their ignorance and their innocence. Award-winning writer Tony D'Souza digs deep to uncover what they knew-- could have known.
Whether you can afford tot give a lot or a little, there's a cause out there waiting for you. Just take a look at our roundup of opportunities.
Our comprehensive listing of local nonprofits, complied by Hannah Wallace with the aid of the Giving Partner.
Meet "Mr. Magic," Robert Burns.
DEPARTMENTS
A trailblazing partnership inspires and enriches this issue.
INSIDER
News and newsmakers on the giving scene, from passionate visionaries to how to be a better board member.
MR. CHATTERBOX
What Mother Theresa and a washing machine taught Mr. C's mother about fund raising.