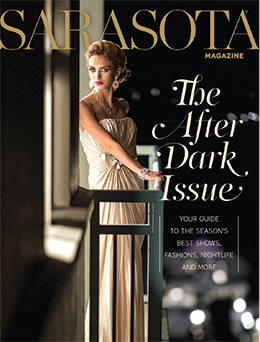 FEATURES
Your season preview guide to the shows to see, the bands to hear, the bars to visit-- plus nocturnal outdoor adventures and an invigorating assortment of people who stay up all night.
* Bandwidth

*

 Best of the Season
* Here's Looking At You
Tony-winning director Frank Galati, directing this month's 1776 for Asolo Rep, reflects on a career spent on the battlegrounds of the theater.
Light up the party in the season's best dresses. Photography by Mark Farmwald.
Novelist Adam Davies hit the club scene with a seal-life Casanova.
DEPARTMENTS
True tales from the night shift. By Pam Daniel.
INSIDER
The latest scoop, including Carol Tisch's shopping finds, one hot dish from chef Judi Gallagher, Cooper Levey-Baker's new column on civil issues-- and more.
* Poll 
For Mr. C, New York City's Bergdorf Goodman is more than a department store-- it's the key to everything from the culture of fashion to Kim Kardashian.
New contributor Veronica Pastore navigates the social circuit.
Style blogger Heather Dunhill reports on looks and loots she loves.
Kay Kipling's calendar of the best arts and entertainment events for November.
LUXURY HOME
Carol Tisch on how to gt the mid-century modern look, plus Ilene Denton on hot home features and real estate news.
The latest in 3-D imagery for your body, a yummy Thanksgiving recipe, and fitness tips from a pro. By Hannah Wallace.
FOOD AND WINE
Selva scores, a new chocolate cafe, a good deal on lobster, and Sarasota's best fish tacos. By John Bancroft.
John Pirman sketches John Henry's sculpture Complexus.