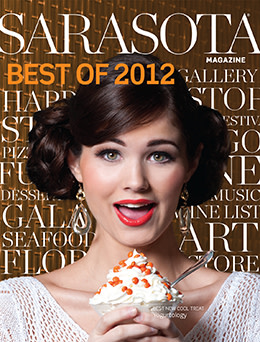 FEATURES
It's here! Our annual readers' poll and editors' roundup of the hottest food, shopping, entertainment and services in town.
Shanley Caswell grew up on local stages; now she's making it big in Hollywood as the star of a just-opened horror film. By Kay Kipling.  
Sarasota's Roskamp Institute offers new hope for Alzheimer's sufferers and their families with a new drug now in clinical trials. Is a cure at hand? By David Ball.
DEPARTMENTS
Pam Daniel on our own little digital revolution.
The latest scoop, including Charlie Huisking's "Art Capital", Carol Tisch's shopping finds, one hot dish from chef Judi Gallgher-- and more.
* Poll
Mr. C offers his personal "best" of Sarasota list. Best dreadlocks, anyone?
Style blogger Heather Dunhill shares looks and loot she loves.
French design for a Lakewood Ranch house, plus Carol Tisch's best-in-show awards from the Parade of Homes and designer show homes.
Kay Kipling's calendar of May's top arts and entertainment events.
Mental wellness events this month, fish oil facts and more. By Hannah Wallace.
John Bancroft returns to old fave Mediterraneo, takes a bite of the Big easy at Duval's and samples fresh fare at Carr's. Plus: Sarasota's best hot dog!
A serene view of Siesta's Jim Neville Preserve. Photographed by James Phillips.