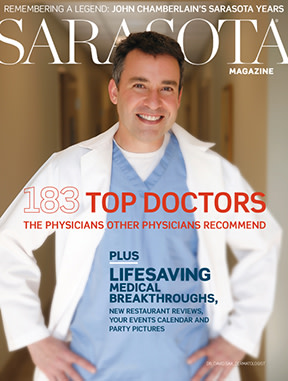 FEATURES
For years, the late, great artist John Chamberlain ruled over a Sarasota studio where he caroused and created in top form. By Robert Plunket.
Cartoonist Ralph Smith sketches a true-life story that all started with a sunset-- and a spider bite.
Our exclusive, expanded annual listing of the areas's most outstanding physicians, as assessed by research firm Castle Connolly.
DEPARTMENTS
Glimpses of John Chamberlain. By Pam Daniel.
INSIDER
The latest scoop, including Charlie Huisking's "Arts Capital," Carol Tisch's shopping finds, one hot dish from Judi Gallagher and more.
* MY WORLD: KEVIN GILLBERT 
Style blogger Heather Dunhill shares looks and loot she loves.
LUXURY HOME
Ilene Denton reports on the West of Trail building boom, cool water-ski furniture and more.
Kay Kipling's calendar of June's top arts and entertainment events
FOOD AND WINE
The buzz on State Street Eating House, Canta Rana and mini martinis from our food critic, John Bancroft. Plus: Sarasota's best pancakes!
Skydiving over St. Armands. Photo by Mike Swain.