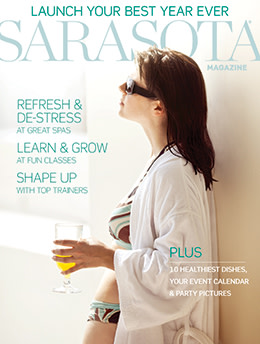 FEATURES
Start the New Year by savoring these healthy—and delicious—restraurant dishes. By Su Byron
Bring Back the Bliss
Out of shape and out of sorts? Time to relax and rejuvenate at some of the top spas in town 
. By Ilene Denton
Feed Your HeadIn their eternal quest for self-improvement, baby boomers are returning to the classroom. David Ball finds lots of local choices for lifetime learners. 
Upping My GameOur region is becoming a center for elite athlete training. Intrepid editor—and ice hockey player—Hannah Wallace asks some experts to whip her into winning shape. 
The New UsRobert Plunket examines how we've changed after the Great Recession, and where we might be heading.
DEPARTMENTS
Pam Daniel takes aim at conventional wisdom about our city.
INSIDER
The latest scoop, including Carol Tisch's shopping finds, one hot dish from chef Judi Gallagher, Cooper Levey-Baker on an Anna Maria controversy—and more.
Secluded Manasota Key has seduced such bright lights as Donna Summer, John D. MacDonald—and now our own Mr. C.
Veronica Pastore falls for footwear at Wine, Women and Shoes.
Heather Dunhill on looks and loot she loves.
What's it like to have your home on a showhouse tour? Ilene Denton tells all. Plus the latest trends and news in design and real estate.
Kay Kipling's calendar of the best arts and entertainment events for January.
The latest news in body shaping, plus fitness suggestions you can use. By Hannah Wallace
FOOD AND WINE
John Bancroft visits the reimagined Melange and talks raw foods with downtown's Ionie. Plus: Sarasota's best cheeseburger.
Illustrator John Pirman salutes the ''60s-era pavilion at Jungle Gardens.