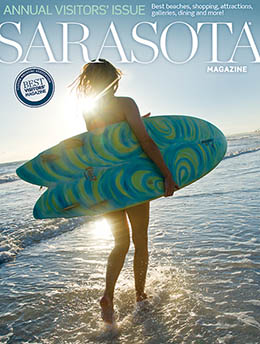 FEATURES
Retail editor Carol Tisch unearths food, fun and shopping finds in Sarasota, Bradenton, Venice and Englewood. 
Wonderful, Waterful City Island
From great views and marine attractions to old-Florida dining on the water,
Hannah Wallace
explores this sliver of paradise. 
Call for Artists
Our city has a long tradition of attracting creative spirits. Six local talents explain why. 
Wish We Were ThereA design-smart couple builds the perfect beach guesthouse to welcome friends and family. By Ilene Denton
. 
Love on Lido Key
Photographer
Ted Mase
chronicles a season in the life of a black skimmer family. 
The Flavors of Family
The renowned Hazan cooking clan gathers for a bayfront celebration.
By Megan McDonald
. 
Queen of the Beasts
In her own Sarasota jungle, Kay Rosaire rules over lions, tigers, bears and the occasional chimp.
Tony D'Souza
on what makes Big cat Habitat special. 
DEPARTMENTS
Where, or where should visitors go to dinner? Pam Daniel gets expert advice.
The best shows to see this month.
Veronica Pastore searches for Baryshnikov at the Ringling International Arts Festival's opening night gala.
Mr. C finds the perfect exercise regime: swimming in our gorgeous Gulf.
Your own private Southwest Florida island.
THE VACATION GUIDE
* Accommodations * Arts and Entertainment 
* Beaches 
 EXTRAS

* 

Antiques and Treasures
* Kids' Stuff
* Sarasota Must-Sees
The latest in local medical and fitness news. By Hannah Wallace.
Illustrator John Pirman captures an iconic vacation property.