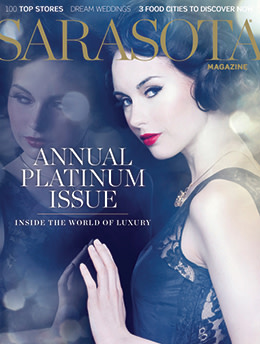 FEATURES
An album of picture-perfect Sarasota weddings.
Two local architects celebrate Siesta Key's sparkling sand at the acclaimed Venice Architecture Biennale this summer.
A visitor's guide to three famous cities where the food has become a star attraction.
From polo to photography, here's how five Sarasotans follow their bliss.
Robert Plunket finds a link between our own Sarasota School of Architecture and a 1970s New York style icon.
Cars, fashion and passion on a Sarasota adventure. Photography by Mark Farmwald, styling by Jackie Rogers.
DEPARTMENTS
Saluting our impressible style editor.
INSIDER
Carol Tisch shops for antiques and complies a connoisseurs's calendar of international events, plus our Real Estate Junkie's Home of the Month.
Mr. C falls in love with the new luxury websites-- and scores the perfect finds for the Sarasota lifestyle.
A comprehensive guide to the city's top luxury retailers. By Carol Tisch.
The perfect parting shot from a Sarasota wedding. Photo by Binary Flip Photography.