Article
Restaurant Review: The Capital Grille
Marsha Fottler reviews The Capital Grille at Sarasota's Mall at University Town Center and finds lots to love at Cassariano in Venice.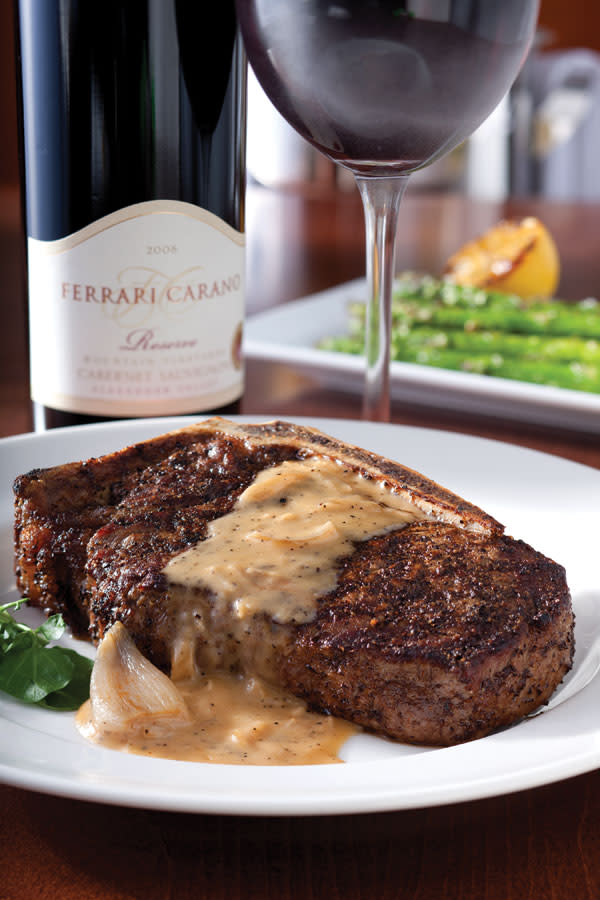 It does not take a culinary genius to cook a perfect steak. Obtain high-quality beef. Don't burn it. Consequently, premier steak house chains must distinguish themselves in other areas to become exceptional. It could be by offering sensational side dishes, a vast variety of wines by the glass, exemplary service or memorable desserts. Diners need a reason to choose one over the others when geographical convenience isn't a determining factor.
Steaks at The Capital Grille, one of the Darden restaurant company's upscale chains, at the new University Town Center, are dry-aged and hand-carved, and there's an excellent range of them, from a gorgeous porterhouse or 22-ounce bone-in rib eye to a filet mignon, served plain or topped with lump crab and Bernaise sauce, or a bone-in Kona coffee-crusted sirloin with shallot butter or even a Wagyu burger (at lunch) with shallot mayonnaise. The Delmonico is porcini-rubbed for a nice crust and then embellished with 15-year-old balsamic. I ate every morsel of this house signature dish. And yes, you can have steak tartare. The Capital Grille version includes truffled deviled egg. Steaks average from $40 to $50, and they are consistently fine and grilled to your specifications. But the steaks are just the beginning.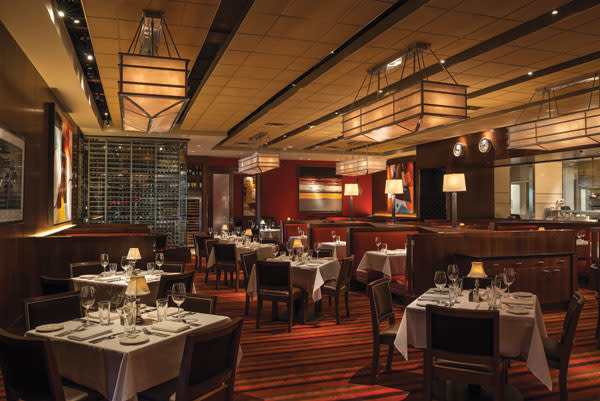 Unlike a dark wood-paneled traditional steak house, The Capital Grille in Sarasota is light and airy, urban and contemporary. It skews young and sophisticated, with its glass wine room playing a key role in the decor, which also features modern paintings, mood lighting, comfortable seating and light, upbeat music in the background. The place is polished and upscale but neither precious nor fussy. Expect white tablecloths and cloth napkins. There's a main dining room, and three private enclaves can each accommodate from 16 to 20. In all, the restaurant holds about 275 inside and on the covered patio.
The service is almost ridiculously lavish—not that I'm complaining. There's a legion of purposeful, uniformed people, each responsible for some aspect of a diner's comfort or whim. Managers, servers, bussers, wine people, greeters, runners, you name it. They glide about with only you in mind and seem to anticipate your every inclination before you do.
The wine list features 350 selections (3,000 bottles) and they've been selected by George Militoes, who is one of only 219 Master Sommeliers worldwide. He seems young for the job and must have quite a nose and palate. He also selects the wines for Seasons 52, another Darden chain that's in the University Town Center mall.
There are a few bottles under $30, but most are pricey, and some you'll recognize from area wine stores, marked up considerably. That's disappointing. Other labels are rare, and many are from small, limited-production vineyards. These are worth the price, because who knows when you'll drink them again? Additionally, 25 wines are available by the glass. Be bold and take a chance. An international vineyard adventure should be a part of The Capital Grille experience.
The same goes for signature appetizers, sides and desserts. The cold shellfish platter at $50 is the showstopper. It's an impressive arrangement of shrimp cocktail, oysters on the half shell and a one-pound lobster, and it can be shared by a table of three or four. The house specialty side dish is lobster macaroni and cheese, a common American favorite elevated to something ethereal. Rich and creamy, it has chunks of tender lobster meat in every bite. I think of it as comfort food for young dot-com millionaires before they turn vegan and Buddhist.
The Parmesan truffle fries don't disappoint; the wedge salad with smoky bacon is divine; and the white cheddar and bacon double-stuffed baked potatoes could be a natural complement for a steak au poivre with Courvoisier cream, if you're looking for an embarrassment of riches and off-the-chart cholesterol readings. The signature pan-fried calamari with hot cherry peppers, an addiction among regulars, could set your mouth ablaze.
Desserts include artistically composed crème brûlée and traditional final flourishes such as a trio of ice creams, berries and cream, coconut cream pie or chocolate espresso cake. Specialty coffee drinks and after-dinner sippers are plentiful. How about a wagon to haul stuffed diners to their cars? The food is so toothsome and the portions are so generous, you're going to request a take-away box, at least on your first visit. You can scale down your gourmet ambitions on subsequent forays. For something lighter and smaller in portion size, sit at the impressive swanky bar and indulge in its menu—a winner for late night or an early supper of snacks.
The Verdict: Pricey, but everything you want in a modern steak house, with an impressive wine list, bar and menu strong in seafood and signature side dishes as well as superb steaks. Engaging ambiance; exemplary service. You'll eat too much—everybody does.
The Capital Grille, 180 University Town Center Drive, Sarasota
Reservations (suggested): (941) 256-3647
Hours: Lunch, Monday through
Sunday 11:30 a.m.-4 p.m.; dinner Monday through Thursday, 4 p.m.-10 p.m. and Friday and Saturday 4 p.m.-11 p.m. The lounge is open daily.
Credit cards: all major
Handicapped accessible; valet parking
Cassariano: The Perfect Neighborhood Eatery in Venice
Every downtown area should have a bistro that feels like a friendly and comfortable neighborhood haven. In Venice, that place is Cassariano, a contemporary Italian restaurant on Venice Avenue.
This storefront bistro has two dining areas and a bar, but there's also a hidden back room, private and quiet, that can accommodate parties of six to 12 at round tables. Nice for small celebrations or when the whole family comes to town and wants to eat Italian.
The restaurant's name is a combination of the partners' last names: Luca Cassani and Antonio Pariano, both born and raised in Northern Italy. After years working together in the restaurant business, they decided to open their own place.
Their experience and expertise are evident. The dining rooms feature nice architectural details in the white brick walls and the exposed industrial ceiling. Tables are bare wood set with dark napkins and contemporary white plateware. Servers are attentive, friendly and knowledgeable about the menu.
The menu is standard Italian, nothing very complex or too adventurous. What makes a meal at Cassariano so extraordinary is that the owners use fresh, high-quality authentic ingredients, and the cooks in the semi-open kitchen resist overprocessing. The al dente pasta is made from scratch and the classic sauces are fresh and naturally flavorful. Two favorites with regulars are the veal scaloppini with porcini mushroom sauce and potatoes ($24.50) and the pappardelle Bolognese, house-made noodles with a rich veal meat sauce at $17.50. It's the best kind of comfort food.
For an appetizer I had something I've never tried before, swordfish caprese, composed of thin shards of raw swordfish atop a mound of spicy field greens and dressed with caper berries and a light lemon dressing. It was refreshing, and certainly an improvement over grilled swordfish. The pork tenderloin with prosciutto, Marsala wine, mushrooms and polenta is an extravagantly delicious and satisfying option ($23.50). The snap of salty, flavorful prosciutto only adds to the pleasure of the dish.
Cassariano does lunch and dinner, full bar, desserts and live jazz music on Sunday evenings. Sit inside or eat al fresco under the famous arcade that makes strolling Venice Avenue so pleasurable. Cassariano has lots of regulars who consider this restaurant "their" place, so make reservations several days ahead of when you want a table.
Cassariano Italian Eatery, 313 W. Venice Ave., Venice
Reservations suggested: (941) 485-0507
Credit cards: all major
Handicapped accessible
Full bar
Hours: Monday to Thursday: Lunch 11 a.m.-3:30 p.m.; dinner 4:30 p.m.-9 p.m. Friday and Saturday: Lunch 11 a.m.-3:30 p.m.; dinner 4:30 p.m.-10 p.m. Sunday: Dinner 5 p.m.-9 p.m. Live jazz quartet.
For more Sarasota dining and restaurant news, click here. >>