Article
Sarasota Luxury Shopping Finds
Our style editor's curated collection for our ultra-luxury annual.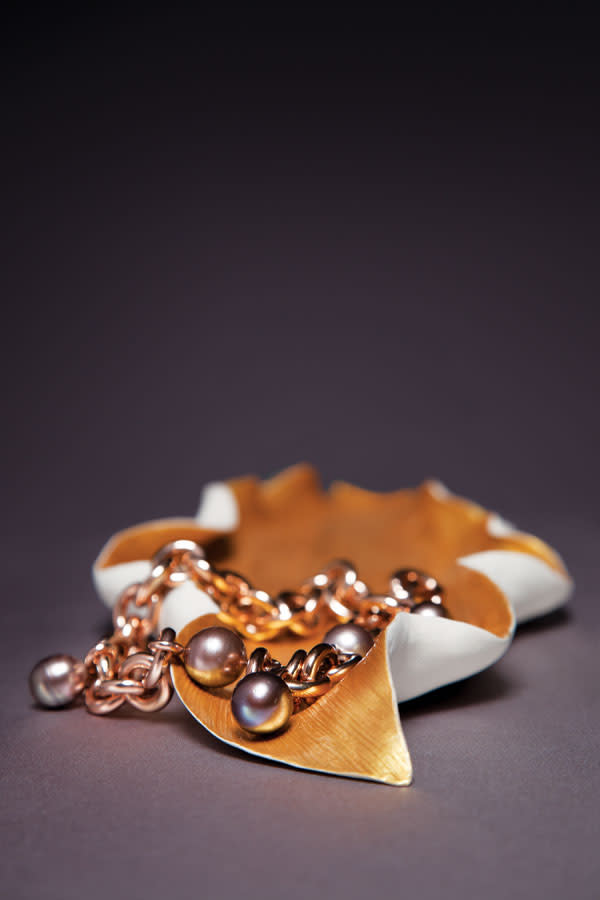 The luxury items now capturing attention in Sarasota stores are richly visual and span the gamut from extraordinary treasures like Gellner South Sea pearls accenting 24K gold chains at Optional Art 2 ($2,790) to delicate gold-leaf and matte-white ceramic objects like this leaf platter at The Sarasota Collection Home Store ($119).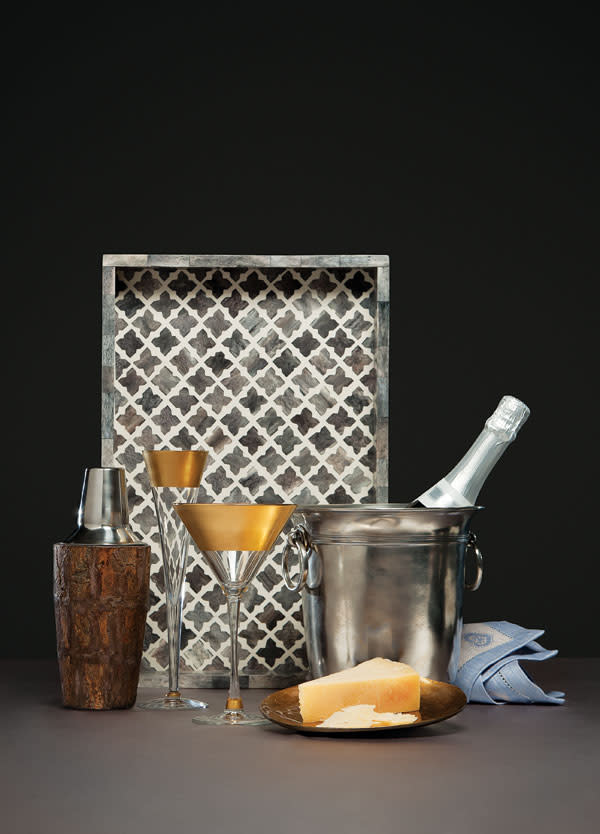 A dazzling abundance of gifts for entertaining at Sarasota stores ensures elegant parties, beginning with a serving tray with Moroccan motif in bone marquetry from Indigo West ($250). At Black Bird Lifestyle we spied hand-painted, gold-rimmed champagne and martini glasses by Mark Blackwell New York ($60 each) and a wine bucket ($395) crafted by Match Pewter's artisans in northern Italy.  Conversation pieces from The Sarasota Collection Home Store include a cocktail shaker ($72) with bark finish, linen napkins ($92/set of 4) and a tiny golden plate ($24) with rich patina.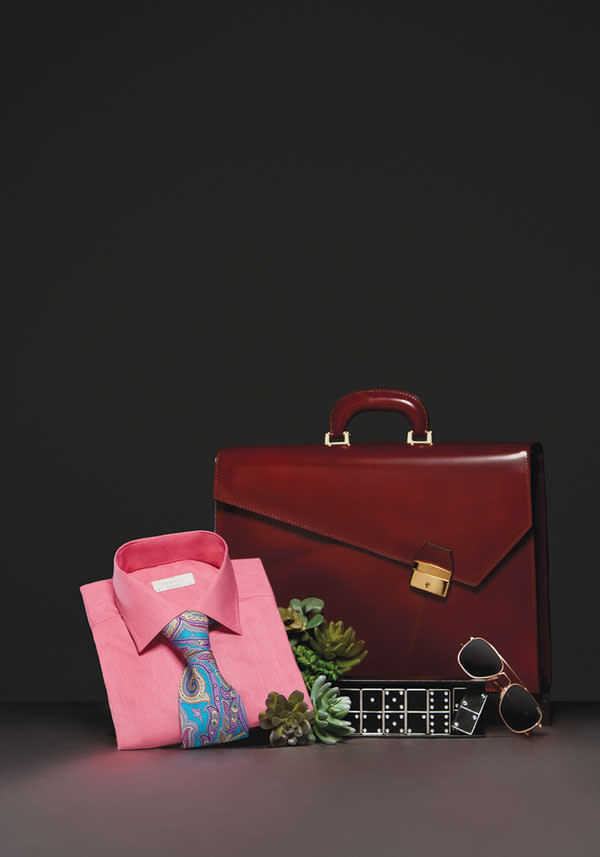 Extraordinary treasures for men include a burgundy leather briefcase hand-crafted in Italy for the Main Street leather goods store Eleganza ($935). Equally elegant are The Met's distinctive offerings from Sweden's Eton, one of the world's finest shirt makers ($255), and silk ties from Italy's coveted Etro ($115).  Don't miss the new menswear at Black Bird Lifestyle, including rose-gold aviator sunglasses crafted in America by Randolph ($230), and a leather and nickel Ralph Lauren Rowan domino set ($470), the perfect gift for collectors.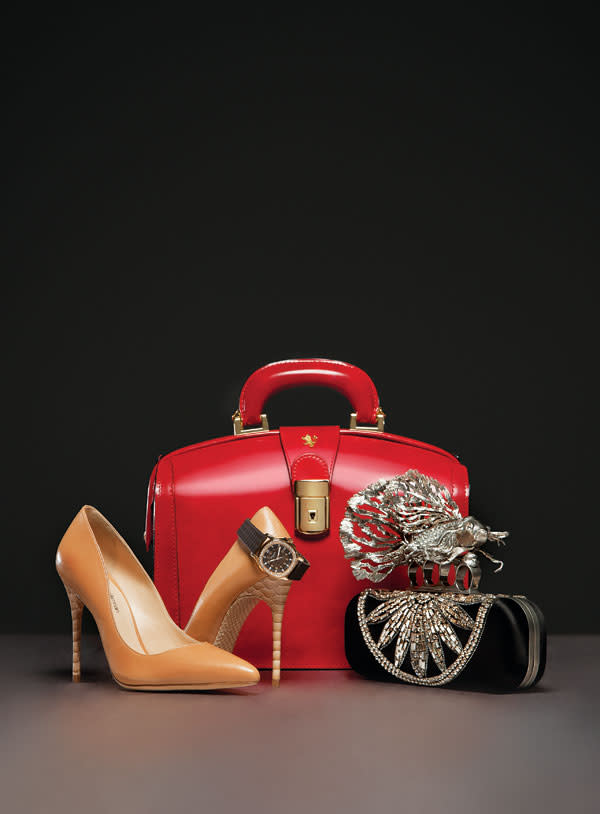 A trove of luxe accessories for women awaits in boutiques and department stores from St. Armands Circle to the new Mall at University Town Center. Slim and elegant nude pumps with snake pencil heels by Alexandre Birman ($595) are best sellers at Addison Craig.  Eleganza imports a supple red leather doctor's bag from Italy ($635), and Saks Fifth Avenue beguiles with couturier Alexander McQueen's satin clutch adorned with crystal fish clasp ($4,895). McCarver & Moser ups the luxury quotient with an array of Patek Phillippe watches that makes it the go-to source for clients around the world ($44,300).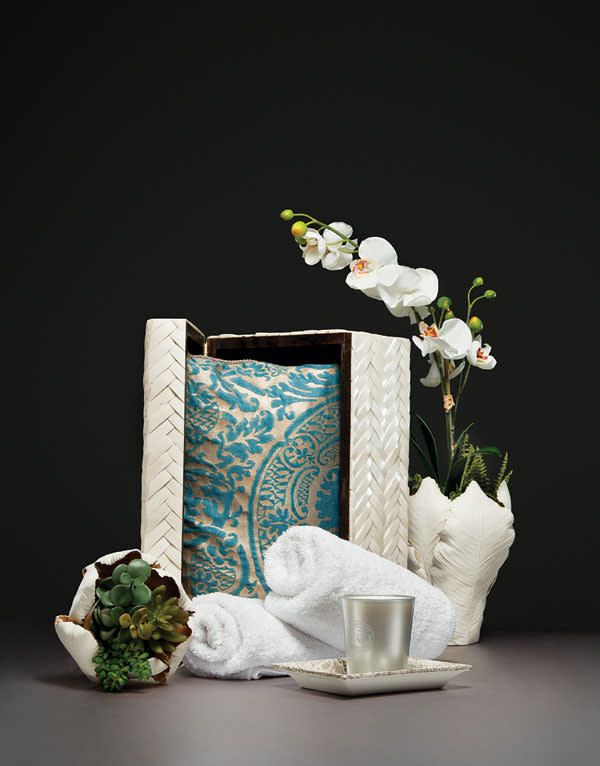 Catering to interior furnishings tastes that differ strikingly, decorative objects at Sarasota shops range from sublime indulgences like the Old-World accent pillows shown from Pecky ($550) to of-the-moment plates from the new Etro Home collection at The Met ($220). Luxuriate in Indigo West's super-soft Egyptian cotton bath sheets ($98), store your trinkets in its woven bone decorative box ($495) and set a romantic mood with a candle in its own silvery cup ($35) and white ceramic vases finished with gold leaf interiors ($466 a pair) from The Sarasota Collection Home Store.