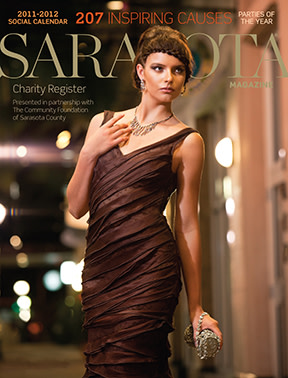 FEATURES
What a year for parties it was! We single out the biggest, the wildest and the most fun of the social season that was. By Pam Daniel
Venice's Loveland Center faces funding challenges as it tries to build a residential village for developmentally disabled adults. By Beau Denton
Gala gowns that light up the night. Photography by Matthew Holler
Highlights of a packed 2011-2012 charity events season.
Our comprehensive listing of Sarasota nonprofits. Compiled by Hannah Wallace
From aerial bartenders to nitro bars, fresh new fun for this year's party scene.
Meet the new head of the Community Foundation of Sarasota County, Roxie Jerde.
Bruce Dillon never stops working to make South County a better place.
How Mr. C--and this magazine--became a part of 9/11 conspiracy-theory lore.
A generous grant will make the new Sarasota National Cemetery a beacon for visitors.