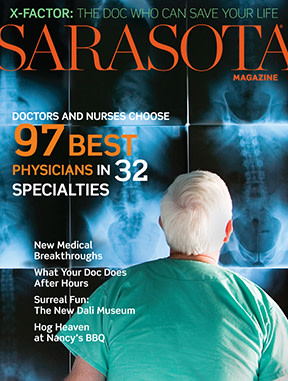 FEATURES
Just an hour away, St. Petersburg's new Dali Museum offers a fascinating glimpse into the mind of a great artist.
How a talented triumvirate saved the Westcoast Black Theatre Troupe from going under--and revitalized their own lives in the process. By Robert Plunket
Humorist David Grimes tells us why the new and improved Ed Smith Stadium is such a hit.
Our exclusive annual listing of the area's most outstanding physicians, as determined by medical healthcare research from firm Castle Connolly. Plus, new ways local doctors and researchers are saving lives.
Tips on improving your lifespan--and your life story, too.
The latest scoop, including Charlie Huisking's "Arts Capital," Carol Tisch's shopping finds, one hot dish from chef Judi Gallagher--and more.
Donald Trump a Founding Father? Mr. C explains.
LIMELIGHT
Rebecca Baxter snaps the social scene.
Carol Tisch finds great buys in the country club living market.
Fitness and health news you can use. By Hannah Wallace
Kay Kipling's calendar of June's best arts and entertainment.
John Bancroft goes bonkers for downtown's hot new Nancy's Bar-B-Q and samples smart sushi and a good deal on St. Armands circle.
A vivid view of primal Florida by photographer Brian David Braun.