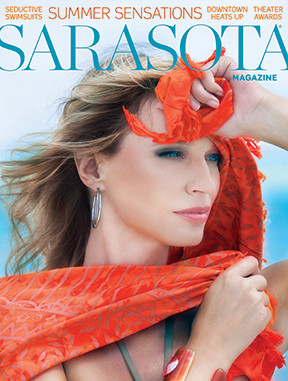 FEATURES
From cool shopping and hot nightlife to sophisticated dining, living and culture, downtown is on a roll. By Robert Plunket
Education reporter David Ball on why Florida's new merit pay law is igniting controversy in Sarasota schools.
Bold new swimwear takes to the beach. Photography by Matthew Holler
Theater critic Kay Kipling picks the winning plays and performances of the 2010-11 season.
New College novelist-in-residence Adam Davies recalls his friendship with the legendary Katharine Hepburn.
DEPARTMENTS
The star writers behind our stories. By Pam Daniel
The latest scoop, including Charlie Huisking's "Arts Capital," Carol Tisch's shopping finds, one hot dish from chef Judi Gallagher--and more.
Death gets a new makeover, with Mr. C's guide to the proper way to plan your demise.
LIMELIGHT
Rebecca Baxter snaps the social scene.
Fitness and health you can use. By Hannah Wallace
Kay Kipling's calendar of the best arts and entertainment events for July, August and September.
John Bancroft dines around the world at Pattigeorge's, plus Sean Murphy's new island bistro, affordable meals at Sahara and summer drinks.
Ted Mase captures the spirit of the Suncoast Super Boat Grand Prix.