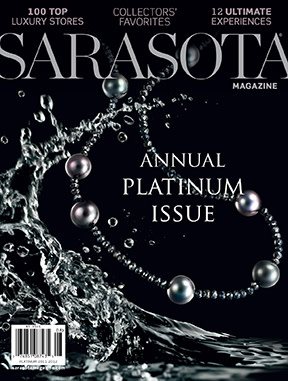 FEATURES
Howard Tibbals' circus world expands at the Ringling Museum.
From fine art to automobiles, the objects local connoisseurs and collectors love.
The sights and sounds of India are taking over the Western world. Carol Tisch reports on the latest inspiration from the East.
Get set for some unique and unforgettable Sarasota luxury adventures. By Su Byron and Marty Fugate
Sarasota's new Beaux Arts mansions following a classic tradition of elegant excess. By Robert Plunket
LUXURY DIRECTORY
Recalling that very first luxury experience. By Pam Daniel
INSIDER
Carol Tisch shops for this year's dazzlers--black diamonds--and leather goods with a trace of the exotic. Plus, a new Sarasota Magazine signature dish at the Ritz-Carlton.
Your comprehensive guide to Sarasota's top luxury retailers.
Two natural jewels from Selby Garden's collection.