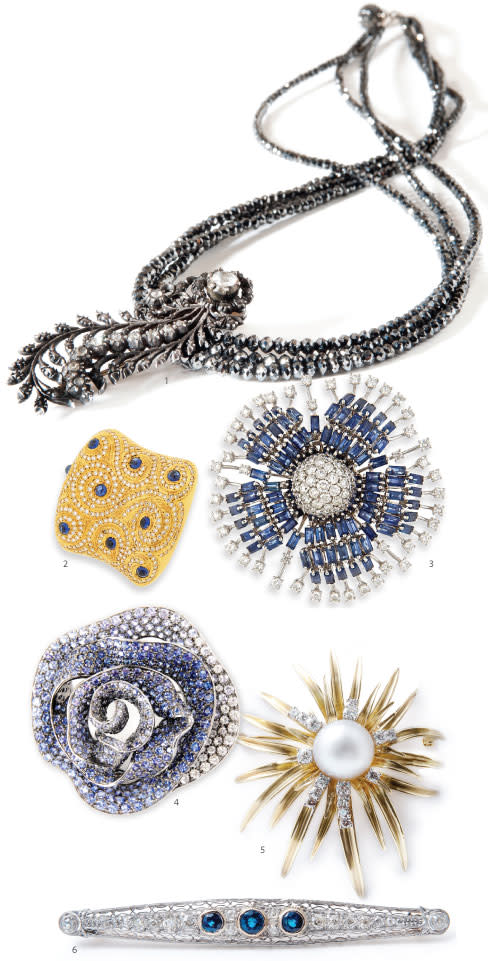 1 Remodeling estate pins into pendants is so chic in Sarasota, and this circa 1850 brooch with .25 cts. of rose-cut diamonds ($1,650) is a great example, shown with triple-strand necklace of 69K black diamonds ($6,678). Coffrin Diamond Jewelers, 1829 S. Osprey Ave., Sarasota, (941) 366-6871.
2 Pin or pendant? She gets two gifts in one with this 18K yellow gold Italian-crafted cushion pin studded with sapphire cabochons (1.95 cts.) and brilliant diamonds (1.84 cts.), all VS in quality and G in color (price on request). Tilden Ross Jewelers, 410 St. Armands Circle, Sarasota, (941) 388-3338.
3 Known for couture pins, Zydo of Italy designed this floral spray brooch in 18K white gold with pavé diamond button center and matched straight baguette-shaped blue sapphires (price on request). Queens Wreath Jewels, 17 Fillmore Drive, St. Armands Circle, (941) 388-9800.
4 A single rose can be her garden when every petal is completely encrusted with light to dark sapphires, some edged with tiny diamonds. Crafted of 18K white gold with 11.62 cts. of sapphires ($11,175). McCarver and Moser, 482 John Ringling Blvd., Sarasota, (941) 388-3666.
5 French-trained dress and jewelry designer Marlene Stowe crafts a willowy starburst pin of 18K gold with diamonds and South Sea pearl ($14,800). Saks Fifth Avenue, 3501 S. Tamiami Trail, Sarasota (941) 364-5300.
6 The brightest stars of the season are estate pieces like this with 20.40 ct. multicolored sapphires and 4.41 ct. diamonds ($10,700). Diamond Vault, 3979 S. Tamiami Trail, Sarasota, (941) 921-4016.