Best Restaurants
Sarasota's Best Restaurants
Our panel of judges picks out Sarasota's top 20 best restaurants.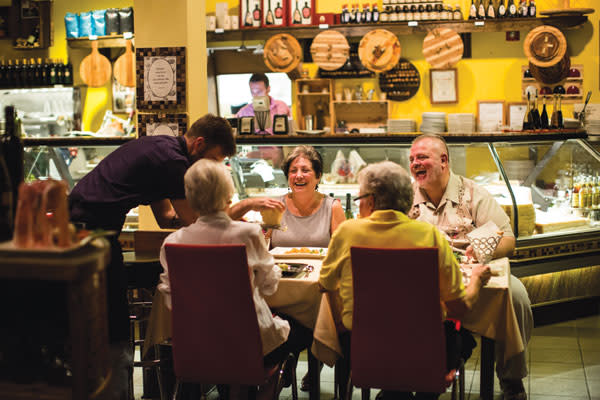 Our opinionated list of the best restaurants in Sarasota/Manatee right now.
Our Judges
The dedicated diners who helped us make the call.
Judi Gallagher, Judi Gallagher & Associates hospitality consulting and contributing food and wine editor, Sarasota Magazine
Marsha Fottler, food and wine editor, Sarasota Magazine
Jeremy Hammond-Chambers, chef and owner, Innovative Dining boutique catering
David R. Kotok, co-founder and chief investment officer, Cumberland Advisors
Burton "Skip" Sack, former chair, National Restaurant Association
Christine Peterson Schlesinger, diabetes educator and nurse practitioner
Emily Stroud, owner/designer Hayden Reis totes and accessories
Our 20 restaurants are listed in alphabetical order.
Andrea's, The Art of Food & Wine In a cozy room of about 40, this white-cloth dining experience is orchestrated anew each night by master chef Andrea Bozzolo, born and raised in Italy and educated at one of Europe's most prestigious hotel schools. Bozzolo makes his own pastas and breads, imports only the best cheeses, and is an authority on Italian wines, offering an impressive list. The consistently excellent menu is contemporary Italian, meaning he does little riffs on classics from various regions of Italy. Foodies revere his beef carpaccio and ravioli with brown butter and sage. And regulars love to see the cart with imported Italian cheeses being wheeled into the room. Andrea's has a long list of happy regulars, so reserve days in advance. 2085 Siesta Drive, Sarasota, (941) 951-9200.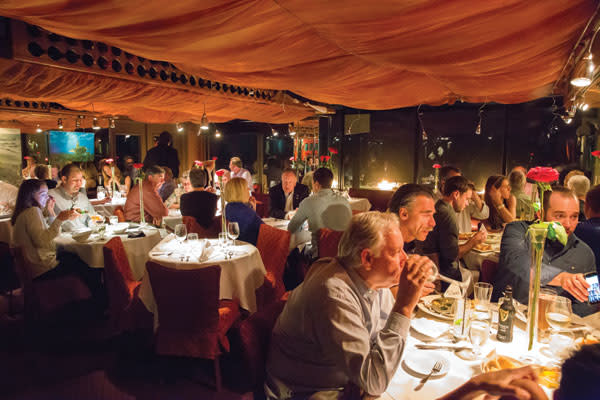 Beach Bistro This intimate cottage on the sand has it all—romantic sunsets, award-winning Gulf Coast cookery, and a praiseworthy wine list. It all bears the imprint of Sean Murphy, a big personality with Irish charm who loves his little corner of Florida and is meticulous about the food he serves to locals who walk to the Bistro and guests who fly in from all over the world. Standouts include the foie gras and the Gulf Coast bouillabaisse, but the menu changes periodically so there's always something new and luxurious to call your favorite. Service is exactingly professional and Sean is always there to chat with old friends and first-timers. You need reservations, because Beach Bistro is everlastingly booked. 6600 Gulf Drive, Holmes Beach, Anna Maria Island, (941) 778-6444.
Bologna Cafe This restaurant recently moved to larger quarters in Osprey, where owners Claudio and Barbara Ronchi still offer a deli case as part of the restaurant. The couple imports cheeses from Italy, working with small-batch producers, and the same goes for their wines. They make their own mozzarella, which is not to be missed. The skilled kitchen relies on family recipes from Bologna and modern riffs on regional classics. In an area where Italian eateries dominate, Cafe Bologna manages to stand out, with offerings such as gnocchi with Gorgonzola, coletta of veal, ricotta purses with truffle oil, and house-made pastas. The late Marcella Hazan, the guru of Italian cookery, said it felt just like dining in Bologna—need we say more? 3893 Destination Drive, Osprey, (941) 244-2033.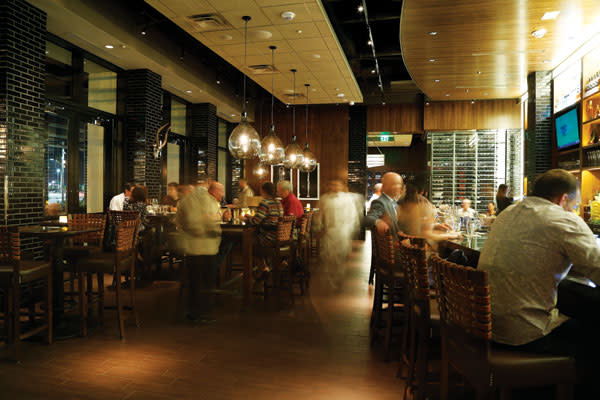 Capital Grille This upscale chain steak house (dry-aged beef) has been packed since it opened at the Mall at University Town Center. Although it's at the mall, Capital Grille isn't really "of" the mall. You can enter only from the street, making it a destination dining spot whether or not you want to shop. The steaks are first-rate, but Capital Grille also has made a name for itself with clever sides and small plates. The pan-fried calamari with a hot jolt of hot cherry peppers is a favorite. The lobster mac 'n' cheese is rich and two can share it. Parmesan truffle fries are superb. Of course, it's a beef lover's paradise, but there are glamorous seafood offerings too. 180 University Town Center Drive, Sarasota, (941) 256-3647.
Cassariano A super-fine restaurant masquerading as a simple bistro and bar. Don't be deceived. Eat inside or out under the Venice Avenue arcade and enjoy traditional Italian meals prepared by Italian pros who work in a semi-open kitchen. Cassariano serves scratch-made pasta, and uncomplicated meat—including lamb, pork, veal and beef—and seafood dishes with sublime sauces, in a comfortable, casual ambiance. This restaurant is a little gem. Some regulars are reluctant to tell too many people about the place because they consider it their neighborhood hangout and want to make sure they can get in. Overheard one night: an Italian visitor saying, "This is so good you could swallow your tongue." 313 W. Venice Ave., Venice, (941) 485-0507.
Derek's Rustic Coastal Cuisine Derek Barnes has plenty of accolades, including being in Zagat America's Top Restaurants. When he closed his Sarasota restaurant and moved to Bradenton, foodies squawked but then drove north, because when you crave Derek's food, nothing else will do. At his new, more casual place, the emphasis is on fresh seafood, with a New Orleans vibe (he did, after all, cook at Emeril's in New Orleans), and the gumbo is Louisiana-luscious. He does New Orleans BBQ shrimp, voodoo crawfish, fried green tomatoes and a wonderful shrimp po boy. But then there's yellowfin tuna with sweet onion corn fritter. And who else makes Southern-fried tofu and waffles paired with braised kale and toasted garlic caramel? This chef's imagination always runs at high speed. 5516 Manatee Avenue W., Bradenton. (941) 794-1100.
Euphemia Haye Many wouldn't dream of celebrating a special occasion anywhere else than in this charming cottage on Longboat Key, and it also draws visitors who appreciate haute food in an intimate environment. You could be treated to roasted duckling, noisettes of beef Madagascar, Grecian lamb shank, veal sweetbread Grenobloise, shrimp Taj Mahal or a prime peppered steak pan fried in hot-sweet orange plus brandy. The menu is both American and global, but leans to classic French. Upstairs, the Haye Loft, a casual, no-reservations hangout, specializes in outstanding house-made desserts, pizza, light bites and live music. Enjoying a meal at Euphemia Haye is an experience unique to this part of Florida. 5540 Gulf of Mexico Drive, Longboat Key, (941) 383-3633.
Fins Maybe offering the best water view of any restaurant on this list, Fins on Caspersen Beach is new to Venice but already popular with locals and visitors who praise the seafood, the outdoor treetop lounge, and the coastal contemporary feel that welcomes diners in sandals and sundresses. It's an upscale addition to the popular Sharky's on the Pier complex, which also includes an outdoor tiki bar with live music and casual dining and a scenic pier. You'll find an impressive array of sushi selections, a fine octopus salad and, tropical salads as well as fresh fish and shellfish prepared a variety of ways. Take visitors from out of town. They'll think you're a genius for living in Southwest Florida. 1600 Harbor Drive, S., Venice, (941) 999-3467.
Fleming's This steak house is a big chain restaurant that acts like a local independently owned one. The ambiance is white-cloth polished casual, with wood tones and furniture that's more female-friendly than most steak houses. And it skews young. Many of the servers have been here long enough to know regulars by sight. You relax when you walk through the door. Big wine list, steaks done right, great ahi tuna. Signature sides such as the chipotle mac 'n' cheese, house potatoes and creamed spinach are well prepared. The food is familiar but delicious, every single time. There's also a comfortable bar where you can dine as well as enjoy a drink. This well-run establishment consistently delivers an outstanding experience. 2001 Siesta Drive, Sarasota, (941) 358-9463.
Indigenous Chef-owner Steve Phelps, recipient of several world-class culinary awards, is a genius with seafood and passionate about fresh and local. The kitchen is tiny and the menu restricted to about six small plates and as many entrées. Everything is carefully thought out, but the food isn't fussy or precious; Phelps is just brilliant with flavors. Sit in one of the little rooms inside or outside on the porch. The wine room/bar is quite romantic. You want to try the Mote Marine aqua farmed sturgeon, any of the locally caught fish (chef will tell you the name of the boat that brought them in) and My Uncle's Burger, which is incredibly juicy and creatively seasoned and sauced. Call days ahead or you'll never get in. 239 S. Links Ave., Sarasota. (941) 706-4740.
Jack Dusty Well, it is the Ritz, so you know you're going to be treated as if you were a visiting sultan. But Jack Dusty is a new Ritz-Carlton style of dining—more relaxed but still glamorous and meant to attract locals as well as hotel guests. The ambiance takes its cues from the bay and the boat basin with a dreamy contemporary coastal setting with big water views and luxury lounge furniture that suggests you're on a millionaire's yacht. Sail away with couture cocktails, a raw seafood bar and platters seductively arranged with shellfish. Plenty for landlubbers, too, because this is essentially a hotel restaurant and means to please wide-ranging appetites from all over the world. 1111 Ritz-Carlton Drive, Sarasota, (941) 309-2266.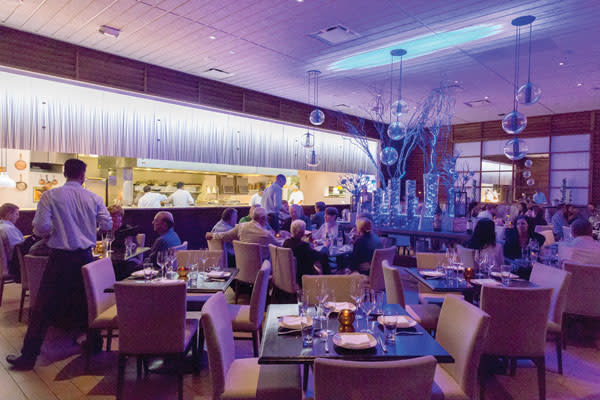 Louies Modern This two-year-old hotspot, owned and operated by the Seidensticker family (which also owns The Francis next door and Libby's in Southside Village), has elevated its portion of downtown. The tone is comfortable, contemporary luxury that doesn't take itself too seriously. There's a very good bar with classic and inventive new cocktails, and the leading-edge American food is prepared in a stylish open kitchen and presented with great emphasis on color and construction. The burrata and tomato salad was a classic from Day One. Also try the lamb meatballs, crab cake made with Granny Smith apple, grouper étouffée, brisket short rib burger and lobster thermidor pot pie with cognac gravy, surely the ultimate comfort food for rich people. 1289 N. Palm Ave., Sarasota, (941) 552-9688.
Maison Blanche Short of going to Paris for dinner, drive to Longboat Key and settle into comfortable chairs in a small, chic, minimalist-modern room draped in gauzy white drapery. Then surrender your palate to chef Jose Martinez, who will thrill you every single time. Martinez owned a Michelin star restaurant in Paris before moving to Longboat to cook with locally sourced ingredients as well as what he brings in to create his brilliant and refined cuisine. Braised lamb shank osso buco with Parmesan risotto will tempt you, or maybe green asparagus soup, Mediterranean sea bass or foie gras terrine. The method is completely French. The wines are international. The experience is transporting. 2605 Gulf of Mexico Drive, Longboat Key, (941) 383-8088.
Mediterraneo It's urban, hip, and the ever-present owners welcome guests and entice them with wine and pizza from a wood-burning oven at the bar or a leisurely meal in one of the three modern European-style dining rooms. Since it opened in 1996, this self-assured downtown hotspot has maintained a chic vibe and a menu that features simple, flavorful Northern Italian dishes. Among the offerings: braised lamb shank osso buco with Parmesan risotto, black linguine, four-cheese gnocchi or the famous veal chop Milanese. A recent renovation has only upped the ambiance, and the wine (Italy and California), servers and standards are top of the line. This is a sophisticated place to see and be seen, a successful Mediterranean convergence of food, place and intention. 1970 Main St., Sarasota, (941) 365-4122.
Michael's On East is the gold standard for a big, casually elegant restaurant that does lunch and dinner as well as late-evenings in the bar. There's a superb catering division, too. Running this very big show are Michael Klauber and Phil Mancini, a formidable team with the awards to prove it, including their recent induction into Florida Trend's Golden Spoon Hall of Fame. The menu is Continental and American with a few signature dishes (Chinese chicken salad, bowtie pasta) that have so many fans they'll never go away. It also regularly reflects the food and wine trips Klauber organizes to exotic locations. Twenty-eight years of consistency, great service, high-quality cuisine, an exemplary wine cellar and that Michael-Phil hospitality all make this restaurant a standout. 1212 S. East Ave., Sarasota, (941) 366-0007.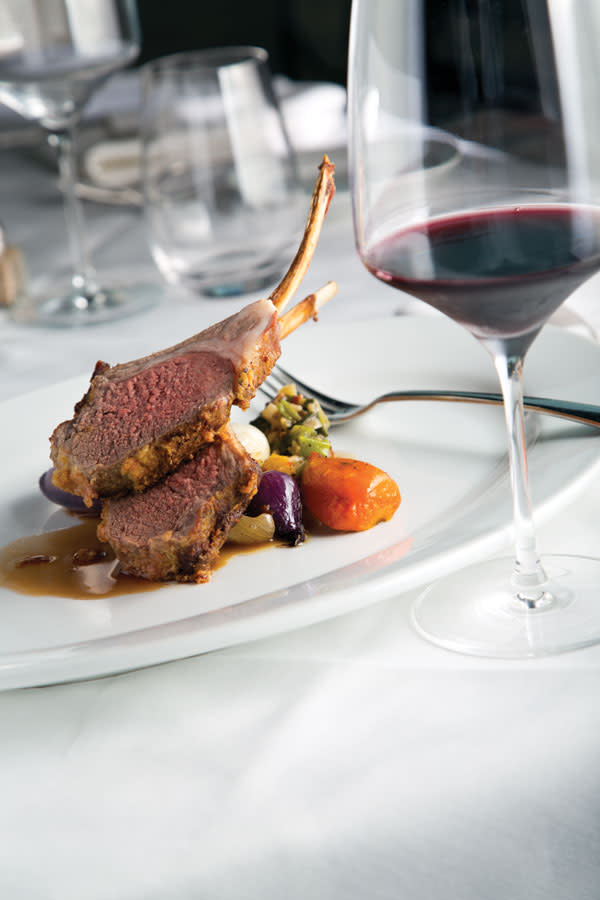 Pomona This cozy storefront restaurant (there's a side patio with fireplace that offers another mood option) in a commercial/residential neighborhood near downtown Sarasota is like a private club. Regulars walk to their favorite tables from their condominiums and folks who drive in from the islands always see someone they know. The owners/chefs, Arthur Lopes and Ryan Boeve, are like friends who cook for you in their own home. The menu is Continental, offering charcuterie and cheese plates as well as fennel-stuffed yellowtail snapper, domestic rib lamb chops or grouper cheeks with Cedar Key clam brodetto. This is sophisticated, haute food conjured up by chefs who aim to amaze and entice. You might even want to sip a brandy Alexander for a nightcap. How civilized. 481 N. Orange Ave., Sarasota, (941) 706-1677.
Puccini's Almost a secret, like a pop-up restaurant. Some people think they ought to knock on the door three times and say Joe sent them. You have to bring your own wine, pay by cash or check, and reserve by talking to someone in person. But it's worth it.  Dining here is like being invited into a friend's home. It's romantic, too, with a wall of little shelves that hold votive candles. The kitchen is open so you can watch chef Richard De Felice prepare your meal. And boy, can he cook. The food is Italian, but there's no operatic flair, just simple dishes, both traditional and contemporary, full of flavor, verve and fine Mediterranean ingredients. Regulars swear by the ribeye, lamb chops, salmon and the branzino over lobster ravioli. 2881 Clark Road, Sarasota, (941) 923-7002.
Seasons 52 This innovative Darden chain restaurant is a model of how many modern foodies want to eat—sensibly and deliciously. Located at the new University Town Center mall, Seasons 52 has polished casual ambiance (warm dark woods that make big rooms feel cozy and intimate), with an excellent wine list and dinner selections presented like party fare. The lush flavors and creative American dishes are also calorie- and nutrition-conscious. Mini desserts are artfully served in shot glasses. The menu changes with the seasons and the dishes feature big flavors, but nothing on the menu exceeds 475 calories. Managing partner Alex Elshimy is one of the most gracious hosts in town, and chef Mellissa Louty is a rising star. 170 University Town Center Drive, Sarasota, (941) 702-9652.
Soma Creek Side This decidedly chef-driven restaurant is owned by Dave Shiplett, a Bradenton native who cooked extensively in San Francisco before returning home, where he has owned several restaurants, the latest Soma Creek Side. The modern American menu features seriously good food—including lots of soul food—in a very casual setting. Shiplett could seal his reputation with his shrimp and cheesy grits alone, but then there's his fish & chips hog snapper, Florida lobster bisque, bento box, and his take on pork and beans—a pork loin ribeye paired with buttered white beans and grilled squash. It's a no-fuss, no-frills place, just comfortable enough that you want to stay a long time and eat a lot. 1401 Manatee Ave W., Bradenton, (941) 567-4001.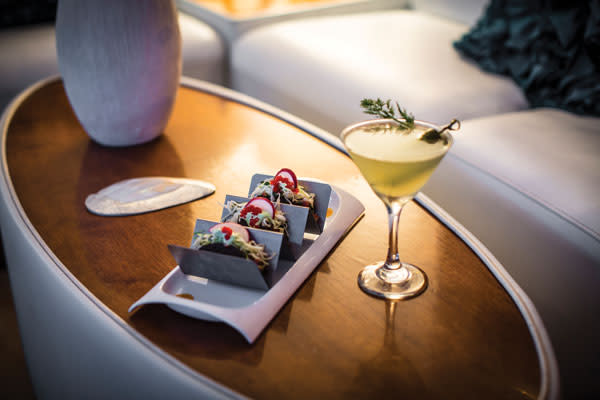 The Table Creekside Chefs Pedro Flores and Rafael Manzano have cooked elsewhere, but they've found a happy home together at The Table Creekside in a rambling wooden building on the banks of Phillippi Creek. Done up in white, sea-glass blue and shiny silver, the place has an ambiance that's young, modern and chic. The bar is known for its infused craft cocktails, while the kitchen is known for just about everything. The menu changes often, but from the appetizers to the desserts it's all unusual and absolutely delicious. Everyone craves the silver-dollar-size warm yucca mozzarella rolls, and the braised short ribs with Caribbean gnocchi is always on the menu. But the Barcelona mussels cassoulet, the Napa grilled octopus and lobster carbonara are gaining fans. 5365 S. Tamiami Trail, Sarasota, (941) 921-9465.
Do you have a favorite restaurant you think should be on the list? Leave a comment below or on our Facebook page.
For more Sarasota restaurant and dining news, click here. >>