Article
October 2015: Home & Garden Annual
Sarasota Magazine October 2015: Home & Garden Annual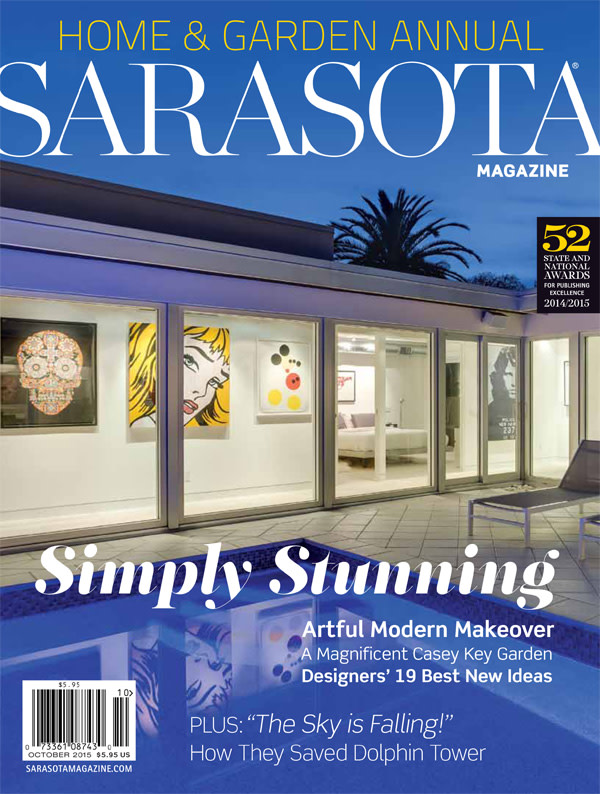 FEATURES
For landscape designer John Wheeler, a five-acre Casey Key property has been the "project of my lifetime."
An art broker's 1950s Lido Key homes goes from so-so to oh-so-sophisticated. By Ilene Denton
This Siesta Key Paul Rudolph house may be small, but its legacy is large. By Bob Plunket
The fourth redo of a spacious waterfront home is all about the kids. By Ilene Denton
Design professionals share the home trends and products they love right now.
When Sarasota's Dolphin Tower condo was near collapse, an unlikely heroine stepped in to save its residents' homes. By Tony D'Souza
DEPARTMENTS
Remembering Bob Johnson. By Pam Daniel
The Heat Index
People, issues and events on our radar, including this month's top tickets, chef Judi Gallagher's dish, Carol Tisch's shopping finds, Heather Dunhill's Fashion IQ, the latest party pictures—and more.
On set with Lucas Congdon, star of the reality TV show Insane Pools.
Donald Trump a Founding Father? Mr. C. explains.
Doggie detectives, mother's milk for preemies, fall prevention and more. By Hannah Wallace
Food and Wine
Marsha Fottler gets hoppy about the boom in beer at local restaurants and samples sushi at Ahi. Plus: Sarasota's best mac 'n' cheese and canning maven Lisa Fulk.
John Pirman sketches a longtime local landmark, the Field Club.