Article
Legal Aid of Manasota Offers Help and Hope
When much is at stake, Legal Aid of Manasota fights for those in need.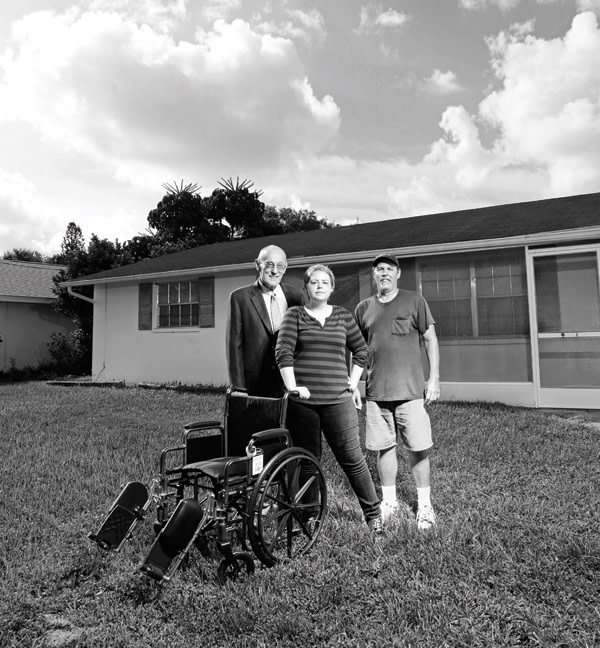 In 2008, the collapse of the housing market threw Patrick Tevere, 54, a single father and Sarasota tile layer, out of work. But losing his job, terrible as it seemed at the time, was only a prelude to the difficulties to come. By December 2013, Tevere had managed to find work again and was regaining his financial footing. Then his 17-year-old daughter, Caroline, began to complain about pain in her legs. Tevere took her for a medical check-up, and the dominoes quickly began to fall.
"The pediatrician couldn't find anything wrong, but they did blood work," Tevere says. "I was working at Lakewood Ranch as a subcontractor; two days later they called me and said, 'You have to take her to the hospital now.' I said, 'I'm leaving in five minutes.'"
Caroline was admitted to All Children's Hospital John Hopkins in St. Petersburg with childhood acute lymphoblastic leukemia, an aggressive blood and bone marrow cancer. Doctors began a regimen of what would turn into two years of chemotherapy, blood infusions, dialysis, and a number of hospital stays that each lasted more than a month.
Caring for Caroline left Patrick with little time or energy to work. Just as during the recession, he began to fall behind on the mortgage payments on his home, which he had owned for more than 20 years. With his lender, Fannie Mae, threatening foreclosure and no money for a lawyer to help renegotiate terms, Tevere turned to Legal Aid of Manasota and volunteer attorney David Morrill.
"Without Legal Aid, we would have been thrown out," Tevere says. "Every lawyer wants a $1,500 or $2,000 retainer just to look at your case. In 2013, I made $25,000."
Unlike in criminal cases, Americans do not have a constitutional right to a lawyer in civil court. Yet the stakes for unrepresented individuals can be frighteningly high. They can lose their homes and custody of their children, or suffer the devastating financial consequences of a one-sided divorce settlement or an illness that leaves them unable to work. According to 2015's  "The Justice Gap," a report by The American Lawyer, in foreclosure and eviction cases, landlords and lenders generally have legal counsel while low-income borrowers and tenants almost never do, and summary evictions are the result. But in those instances when the borrower or tenant does have counsel, the report notes, "Cases usually settle…[the] settlement often gives the tenant more time. A settlement also won't leave an eviction judgment on the tenant's record, which can harm credit, and prevent qualifying for public housing."
Like Patrick Tevere, some 63 million Americans qualify for no-cost civil legal aid, which is based on income. Yet overwhelmed and underfunded legal aid organizations across the country are able to serve only a fraction of those who seek their help.  According to recent state studies, fewer than one in five of low-income people with legal problems is represented by an attorney. Locally, the small paid staff and volunteer attorneys at Legal Aid of Manasota have been offering pro bono legal work to low-income residents of Sarasota and Manatee counties since 1991. Over the past two years, Legal Aid of Manasota has closed more than 3,000 cases, the majority having to do with housing or family law issues. In 2014, about 400 attorneys (there are 2,000 attorneys in Sarasota/Manatee) donated 6,502 hours of pro bono time—an estimated value of $1,300,400.
"We have young clients who have a baby and need child support, 80-year-olds who are facing foreclosure for the first time in their lives," explains Linda Harradine, CEO of Legal Aid of Manasota, at the nonprofit's Sarasota Main Street offices. "We have women in their 50s who have breast cancer and minor children, domestic violence victims who have nowhere else to turn. If you go into the courthouse and you don't have an attorney, [the system] is stacked against you. The process intimidates you; you don't know the rules. Even if you have a winning case but aren't able to [articulate] it, the judge's hands are tied. They can't help, even if they want to."
Legal Aid of Manasota has three staff attorneys, an annual operating budget of $700,000, and satellite offices in Bradenton and Venice. About 400 local attorneys contribute their services every year. On any given day at the Sarasota office, two or three attorneys from the volunteer pool are scheduled to meet with four to eight clients each. Potential clients are prescreened for residency and income eligibility. Some don't qualify because of case type—Legal Aid does not accept fee-generating cases, including personal injury or medical malpractice. A lack of funding, office space and volunteer attorneys means they can accept only about one out of every qualified five applicants. "We are in desperate need," Harradine says.
Legal aid organizations statewide have suffered since the recession, when lowered interest rates decimated a state-ordered fund paid to the Florida Bar Foundation for allocation to Florida's 30 legal aid organizations. The 80 percent shortfall (from $44 million in 2007 to $7.7 million last year) has yet to be met by alternative funding sources or donations, and the state itself has not funded legal aid in four years. And although the Florida Supreme Court "highly recommends" that lawyers offer either 20 hours of pro bono work or donate $350 toward legal aid services every year, attorneys are not required to do so—and most don't. Recognizing the growing crisis, Chief Justice Labarga of the Florida Supreme Court last year established the Commission on Access to Civil Justice to study and promote pro bono legal work.
"Florida needs a coordinated effort to ensure access to justice in Florida is not limited to those who can afford it," Labarga wrote. And he pointed out that since the recession, "[it] is also a problem for the middle class, many of whom do not qualify for legal aid and cannot afford to hire a lawyer."
The resulting costs to individual lives—and to society—are high, says attorney Pamela Fields, Legal Aid of Manasota's pro bono coordinator. "A lot of people in low to moderate income levels are in desperate need [of legal assistance]," Fields says. "If you solve these people's [legal] problems, they'll be able to contribute to society, have a stable life. The cases we take affect people's day-to-day lives; it's custody, housing, basic life issues. [Our attorneys] help families stabilize. It's not frivolous stuff."
Once a client has been accepted, Legal Aid staff goes through their list of volunteers to find an attorney with the appropriate expertise—and time on his or her schedule—to handle the case. Some of their volunteers are practicing private attorneys; some are retired attorneys who have developed expertise in eviction and housing cases. "There are no private attorneys handling [eviction and housing] cases, because there is no money in it," Fields says.
Among those retired attorneys is Gary Parker. During his long career in Detroit, Parker was on retainer with various insurance companies, often handling slip-and-fall cases and malpractice lawsuits. Since 2009, Parker has been volunteering at Legal Aid; he specializes in clients with cancer, who can face loss of income and even homelessness along with disputes with insurance companies, creditors and Social Security.
"I see it a lot; someone is making $100,000 a year—suddenly they are going through cancer treatment, they have 'chemo brain,' their ability to remember [is affected], their reasoning ability, they lose the ability to work. I make sure my client understands everything that is happening," he says.
Parker saw so many cancer patients with civil legal problems that he began the Carolyn S. Smithers Advocacy Program at Legal Aid, named after his first cancer patient client. "If cancer patients can give me a stage 4 diagnosis," Parker explains, "I can file their application with the local Social Security office and get them benefits in three or four weeks. Private [attorneys] don't take those cases because there's nothing in it for them."
At a ceremony at the Judge Lynn N. Silvertooth Judicial Center in downtown Sarasota last June, Legal Aid of Manasota issued its annual Pro Bono Service Awards to more than 50 area lawyers who had donated at least 20 hours of free work. Among those honored were such local legal heavyweights as Morgan Bentley—in the news last year for his role in a high-profile $20 million suit that involved the developers Culverhouse, Rodriguez and Benderson—who donated more than 100 hours; Thomas Icard Jr.; and Andrew Boyer, who took home the Judge Robert B. Bennett Pro Bono Excellence Award.
"No judge wants to see somebody come before them with a defensible case and no lawyer," said Judge Lee Haworth, emcee of the event, at the reception afterward. "I've seen people with drop-dead good defenses, but they didn't have lawyers. The banks get judgments against them that if they had had lawyers, they could have resisted and saved their homes. Every lawyer in Florida takes an oath that says lawyers have a duty to represent the defenseless and oppressed without regards to getting paid. Without this [pro bono] help, we'd have more people in our community struggling in our courts."
Among those honored that evening was David Morrill, the Legal Aid lawyer who helped Patrick and Caroline Tevere stay in their home during Caroline's fight with leukemia.
Originally from Sturgis, S.D., Morrill, 83, spent three decades with the Black Hills Corporation—an electric utility and oil and gas producer—before retiring to Sarasota. For the past 12 years, he's volunteered for Legal Aid. His desire to volunteer comes, he says, in part from the example of his father, an idealistic family practice attorney. His award from Legal Aid follows his 2013 "Lightning Community Hero Award," a program founded by Tampa Bay Lightning hockey team owner Jeff Vinik to recognize individuals making a difference in the greater Tampa Bay area.
At the "Lightning Community Hero Award" ceremony, Vinik handed Morrill a check for $50,000. Morrill immediately donated the money to Legal Aid of Manasota. The funds helped fill the budget shortfall that year and allowed the organization to move to its current, expanded Main Street office. Morrill visited the Lightning bench that night, was given a jersey bearing the number 18—the playing number of his grandson, who died in a freak football accident—and watched the game from a premium club box. "You could bring guests," the affable Morrill recalls with a grin during an interview at his office. "I had about every Legal Aid person I could find."
Reflecting on his work to help Patrick Tevere stave off foreclosure, Morrill says, "It was a terrible thing. Patrick wasn't able to do any work—his daughter was in intensive treatment. The recession really knocked guys like him out of jobs. I've done over 100 Legal Aid foreclosure defenses. The dream is that you get the client a mortgage modification where they can keep the house. You never beat a mortgage, but you can get a good modification. I work on these [Legal Aid] cases as hard as when I was getting paid."
In May, Caroline Tevere attended her graduation from Sarasota High in her wheelchair. She's in the third "maintenance" phase of chemotherapy and her prognosis is hopeful. Still, she needs her father's ongoing care and rigorous medical attention, including a monthly lumbar puncture and twice weekly physical therapy treatments to help mitigate the side effects of chemotherapy on her legs.
"My daughter is my million bucks," says Patrick Tevere from the home David Morrill and Legal Aid of Manasota fought to help him stay in. "Once she can start fending for herself, I can go back to work. I can't thank David Morrill enough. I wish there was something I could do for him."
For more information about the services Legal Aid of Manasota provides, or to find out about donating your time or money  to assist the organization's clients, visit legalaidofmanasota.org.