Shopping
The 2015 Platinum 100
Our 100 top shops in Sarasota-Manatee.
Our luxury retail landscape in Sarasota-Manatee changed last fall with the much anticipated opening of The Mall at University Town Center, adding a number of high-end stores to the local mix, from Michael Kors and Robert Graham to Kate Spade and Tesla. But even before that, the Sarasota shopping scene has long offered top-of-the-line brands and unique products from stores both big and small.
Every year, our editors work to single out the top 100 luxury retailers for this issue—a challenge that continues to remind us of the excellence we have at our command here in antiques, apparel, home décor and more. Of course, luxury shopping is not only about the products available, but about the service and atmosphere the merchants provide. Our savvy shopping and style experts, Carol Tisch and Heather Dunhill, know firsthand exactly what each store on our Platinum 100 list offers in that regard.
In addition to the 100, we've also included a guide to our area's top automobile and boat dealers, and you can go online to see a list of top galleries as well. We hope you'll use our 2015-16 Platinum 100 as your year-round guide to the best in shopping Sarasota.
FASHION
Addison Craig
A fashion-forward boutique-like emporium housing selections from Rebecca Minkoff to Tory Burch to Marc by Marc Jacobs. Whether you love classics or the latest trends, you'll come upon covetable handbags, must-have shoes and to-die-for accessories. A shopping experience to enjoy all year long. 28 S. Boulevard of Presidents, St. Armands Circle, (941) 388-3400, addisoncraig.com.
Banana Moon
For the truly unique in swimwear, it's newcomer Banana Moon, a boutique that encapsulates the California spirit with a touch of French Riviera elegance. Discover exclusive designs based in pure feminine elegance and created with fine French, Spanish and Italian fabrics, all with exclusive in-house prints. The collection appeals to coast-goers, jetsetters, city dwellers and sea lovers everywhere. The Mall at University Town Center, 140 University Town Center Drive, (941) 893-1164, bananamoon.com.
Brooks Brothers
Steeped in history and tradition, Brooks Brothers is known for its proprietary sense of style and timeless silhouettes for women, men, children, home and accessories. For the new generation that boasts the modern dandy style, they've created a line called the Red Fleece Collection—a tweak of the long-standing Brooks Brothers tradition with fresh prints, cut and color. 1500 Main St., (941) 316-1502; The Mall at University Town Center, 140 University Town Center Drive, (941) 702-9110, brooksbrothers.com.
Calypso St. Barth
Merchandise inspired by the experiences of arts, culture and travel, this luxury lifestyle brand has a passionate following. Here's a refreshingly unique collection of feminine elemental pieces with exquisite textures and rich colors, from luxe cashmere cardigans to exotic dip-dyed caftans to personal accessories. Joie de vivre meets bohemian rhapsody. The Mall at University Town Center,
140 University Town Center Drive, (941) 306-1414, calypsostbarth.com.
Captain's Landing
Whether you're spending lazy days by a swanky poolside, at a ritzy resort or at a country club, you'll find just what your tropical closet needs at Captain's Landing. You'll want to stay a while once you enter this destination boutique, and you'll never shop the same selection twice in its coastal collection of resort wear for men and women.  243 W. Venice Ave., Venice, (941) 485-2329, captainslanding.com.
Designing Women Boutique
Who doesn't like a bargain on a brand name? Those in the know shop, and shop often, the routinely refreshed racks and shelves of Designing Women Boutique, where proceeds go to local charities. Gently worn goods and fashions are donated or consigned to this shop and sell at 50 percent to 75 percent off original prices. Finds so good one rarely leaves empty-handed. 1226 N. Tamiami Trail, (941) 366-5293, designingwomen.org.
Dream Weaver & Planet for Dream Weaver
A must-stop for the suitably chic who desire the unique, not trendy. Here is a thoughtfully curated collection of artisanal creative fashions for those with a discerning eye. Linger among art-to-wear in the form of floor-length gowns, day dresses, hand-painted scarves, handbags and jewelry. An adjoining sister store, Planet for Dream Weaver, attracts the style savvy with a yen for casual-chic clothes. 364 St. Armands Circle, (941) 388-1974, dreamweavercollection.com.
Edward Beiner
An industry-leading purveyor of superior eyewear that has built a strong reputation for the best in innovative eyewear. This, coupled with outstanding customer service, has become the hallmark of the Edward Beiner brand. Peruse names like Cartier, Gucci, Carrera, Maybach, ­Super, Persol, Linda Farrow and KBL. The Mall at University Town Center,
140 University Town Center Drive, (941) 866-6316, edwardbeiner.com.
Eileen Fisher
Style within reach for the woman who prefers clean lines and timeless design. Comfortable, functional and versatile separates, beautiful alone or layered, are created with the real woman's lifestyle in mind. Eileen Fisher's culture of great design is timeless. These forever pieces will marry well season after season, even with those yet-to-come collections. 1501 Main St., (941) 365-2435, eileenfisher.com.
Eleganza Leather
Leather goods gleaned from exclusive sources throughout Italy distinguish the curated collection at this new Main Street boutique. Look for men's and women's shoes and a vast choice of handbags in fashion styles as well as Italian designer classics. A cache of luxury work satchels and wheelies and a smattering of apparel add to the allure. 1477 Main St., (941) 955-8855, eleganzaleather.com.
Everything But Water
Hit the sand wearing designers like Mara Hoffman, Proenza Schouler, Trina Turk, Vitamin A and Cynthia Rowley. Don't forget a cover-up or pareo, and be sure to browse accessories like fedoras and floppy hats, sandals and espadrilles, as well as tassel necklaces and flash tattoos for that extra boho-chic stylish something. 331 John Ringling Blvd., St. Armands Circle, (941) 388-1205; 5131 Ocean Blvd., Siesta Key, (941) 346-0702; The Mall at University Town Center, 140 University Town Center Drive, (941) 487-2765, everythingbutwater.com.
Fiona's Children's Clothing
Bling, embellishments and crystals, oh, my! Fiona's is the boutique where sophisticated special occasion looks and party dresses from christening to bat mitzvah to flower girl to holiday frocks mingle. The little fashionista will love donning head-turning pieces from names like Joan Calabrese for Mon Cheri, Christie Helene, Malley and Co., Lexie by Mon Cheri and Us Angels. 6534 Gateway Ave., (941) 400-0732, fionaschildrensclothing.com.
Foxy Lady
At Foxy Lady's two well-appointed locations, you'll find style in spades. There's no shortage of hot and on-trend options, from sportswear to denim to shoes to evening gowns, with up-and-coming brands like Analili, Joseph Ribkoff, Bailey 44 and Hudson. Or leave the decisions to a personal shopper with an eye for your style. 481 John Ringling Blvd., St. Armands Circle, (941) 388-5239; 209 Beach Road, Siesta Key, (941) 349-6644, foxyladysarasota.com.
INfluence Women/INfluence Men
Locals depend on the impeccable fashion edits by co-creators Liz and Sam Murray, who have their fingers unerringly on the pulse of every chic style file. No need for a trip to SoHo or Abbot Kinney for the latest in everything from fashion jewelry to quality basics to date-night looks. These side-by-side boutiques for men and women are stocked with lines like Wildfox, Jennifer Zeuner, Current Elliot, Bella Luxx and LNA. INfluence Women, 474 John Ringling Blvd., INfluence Men, 478 John Ringling Blvd., St. Armands Circle, (941) 343-2315, influencestyle.com.
IOPTICS
If you have a razor-sharp eye for style, you'll dig the creatively curated collections behind the doors of this edgy boutique in Burns Court. Owner Sharon Katzman brings to you everything hip and happening, from quirky chic to modern takes on the classics, in everything from eyewear to jewelry to housewares to gift collections. Shop brands like Alessi, Kartell, Chrome Hearts, Paul Smith, Salt, Porsche and Mykita. 446 Burns Court, (941) 955-5133, iopticseyewear.com.
Kate Spade New York
Playful sophistication has been a hallmark of Kate Spade New York style since its inception. Crisp color and exuberant graphic prints adorn everything from handbags, clothing, jewelry and fashion accessories to eyewear, shoes and desk accessories—all for the polished life. Not to mention, the stationery makes a perfect hostess gift. The Mall at University Town Center, 140 University Town Center Drive, Sarasota, (941) 866-6591, katespade.com.
L.Boutique/L.Shoes/L.Spa
Contemporary looks to suit everyone from the athletic devotee to the black-tie doyenne to the bold fashionista—all styles infused with a carefree glamour perfect for the Sarasota lifestyle. Look for the latest collections from Tory Burch, Tracy Reese, Trina Turk, Aristabrat, Splendid and much more while you are waiting for your hair salon or spa
service at L.Spa, just next door. 556 S. Pineapple Ave., (941) 906-1350, lboutiques.com.
Lilly Pulitzer
Brighten your outlook with this classic brand. Step through the poppy-pink front door on St. Armands Circle for a tidal wave of all things Lilly that you've come to adore. Agendas and accessories, tops and tunics and shoes and scarves are all drenched in the cheerful and colorful prints loved and worn by all generations. 443A John Ringling Blvd., St. Armands Circle, (941) 388-3091; 140 University Town Center Drive, Sarasota, (941) 702-9660, lillypulitzer.com.
Lotus
A boutique built upon the keen knowledge of in-house fashion stylists, bloggers and travelers, resulting in an uncomplicated and effortlessly chic fashion philosophy. Lotus has cultivated a loyal following with an eye for luxe basics and night-out looks from names you know, among them Alexis, Chan Luu, Iro, Chaser, Mara Hoffman, Monrow and Kira Grace. 1451 Main St., (941) 906-7080; 5118 Ocean Blvd., Siesta Key, (941) 346-6793, lotussarasota.com.
Martin Freeman
In a gentleman's club-like atmosphere on historic Palm Avenue there exists exceptional style and expert guidance for the discerning man, with a handsome collection of classic clothing that changes with the seasons. Find brands like Castangia, Derek Rose, Martin Dingman, Maker & Company, Pacific Silk and Stetson, all curated by proprietors Nelson Martin and Harold Freeman, who boast impressive individual résumés as custom clothiers. 75 S. Palm Ave., (941) 953-2948, martinfreemanclothing.com.
The Met Fashion House, Day Spa & Salon
A luxury shopping and salon emporium housed in a mansion with an elegant resort-like ambiance. Featuring everything from sportswear to beauty to home to designer collections for men and women from the beach to black tie. Browse for Veronica Beard and Haute Hippie, Ralph Lauren Black Label, Marchesa Voyage and Cut25 by Yigal Azrouel. Upstairs: a world-class spa and salon. 35 S. Boulevard of Presidents, St. Armands Circle, (941) 388-1772, themetsarasota.com.
Michael Kors
For luxury lifestyle wear for the jet set, chart your destination for Michael Kors, a world-renowned, go-to brand that attracts A-Listers and celebrities alike. Linger among a full line of luxe jewelry and watches, eyewear and fragrance, footwear and ready-to-wear—all timeless pieces you'll feel fabulous in and no doubt keep forever. The Mall at University Town Center, 140 University Town Center Drive, Sarasota, (941) 527-4200, michaelkors.com.
Reasons
Arche, Kate Spade, Thierry Rabotin, Donald Pliner, Lacoste and Robert Zur are a few of the brand names in footwear you'll find in this upscale downtown boutique. Since 1947, Reasons has had an eye for timeless style, exquisite craftsmanship and innovative design with a focus on fashion, fit and comfort. You'll feel right at home in this family-owned business, where superior customer service is a priority. 20 N. Lemon Ave., (941) 388-1602, reasonsfla.com.
Robert Graham
If you're having an out-with-the-old-in-with-the-bold moment, then a stop at Robert Graham is a must. This eclectic American brand of brilliant colors and vibrant patterns is for those with confident, risk-taking style. Here every shopping experience feels more like a treasure hunt, because the devil is in the details of the lining, buttons, embroidery and trim for both men and women. The Mall at University Town Center, 140 University Town Center Drive, (941) 256-0207, robertgraham.us.
Saks Fifth Avenue
Step into the new ultramodern Saks Fifth Avenue and you'll experience why Saks holds the keys to the future of fashion. Browse the noteworthy 10022 shoe department, racks and racks of stylish men's clothing, extensive make-up department, miles of handbags and chic jewelry cases with names like Hermès, Gurhan and John Hardy. Round out your day at Sophie's, with its indoor or outdoor dining. The Mall at University Town Center, 140 University Town Center Drive, (941) 364-5300, saksfifthavenue.com.
Sandy's Designer Clothing
Amidst the chic downtown-shopping universe on the Island of Venice discover a gem of a store in Sandy's Designer Clothing. With an eye for comfort, design and American-made pieces from jewelry to sweaters to handbags, Sandy has curated a collection of designers such as Avalin, Bryn Walker, Comfy, Teresa Goodall, Kent Stetson and Mosaic, and it's the only shop in Venice that carries Oh My Gauze. 128 W. Venice Ave., Venice, (941) 484-9911, sandysdesignerclothing.com.
Sea Cup and Up
An intimates boutique for the ever-changing underpinnings needs of the sexy sophisticate. Proprietor Cheryl Burke promises something for every body, whether you're looking for sweet, seductive or simple, from sports or nursing bras to bra-sized swimwear from brands like PrimaDonna, Simone Pérèle and Conturelle. She's also a fit expert to get you into the proper size from 28-44 and cups C-K. 1810 S. Osprey Ave., (941) 951-2727, seacupandup.com.
Stuart Weitzman
A brand built on craftsmanship with a rich heritage in comfort, quality, design and fit. Weitzman's work creates an experience around his iconic footwear, making shoes that caress and adorn a woman's foot and make her feel glamorous. All hallmarks of why he has a staunch, loyal following for more than 25 years, including stylish celebs like Taylor Swift, Gisele Bundchen and Rosie Huntington-Whitely. The Mall at University Town Center, 140 University Town Center, Suite 229, (941) 702-9654, stuartweitzman.com.
Sunglass Express Optical
A full-service, upscale optical salon that showcases a vast selection of the who's-who in men's and women's fashion sunnies and eyewear brands, like Chanel, Prada, Maui Jim, Tag Heuer, Oliver Peoples, Oakley, Tom Ford, David Yurman, Ray Ban and Judith Lieber. 343 St. Armands Circle, (941) 388-5115, sunglassexpressoptical.com.
Swim Mart/Swim City
With a focus on fashion, fit and comfort, Swim Mart/Swim City has become a swimwear mecca, with an endless selection of suits and a continuously rotating stock. Discover your beachside essential, whether it's sexy separates or a one-piece with curve-hugging control or that picture-perfect bikini for poolside sunning or day on the yacht. Swim City, 1960 Stickney Point Road, (941) 922-4545; 50 N. Tamiami Trail, (941) 954-8800; Swim City, 3170 Gulf of Mexico Drive, Longboat Key, (941) 383-2288; Swim Mart, 4223 S. Tamiami Trail, (941) 924-8618; 500 Placida Road, Englewood, (941) 474-4088, swimmart.com.
T. Georgiano's
A locally owned "shoetique" devoted to the fashion-forward. Owner Tatyana Sharoubim's clients become like family. Pop in for her latest hip, fun and on-trend finds from footwear to accessories—everything from sexy heels and funky wedges to lightweight cushioned shoes. Selections for men as well. Shop for favorites like Beyond Yoga, Bernie Mev, Paul Mayer, Giorgio's of Palm Beach and Via Spiga. 1409-B First St., (941) 870-3727, tgeorgianos.com.
TUMI
TUMI, the leader in travel lifestyle accessories, is your resource for life on the move. Quality, handsome, world-class business and travel essentials are created with the highest attention to detail and craftsmanship, from backpacks and briefcases to wallets and tech accessories to outerwear and pet essentials. The Mall at University Town Center, 140 University Town Center Drive, (941) 866-6304, tumi.com.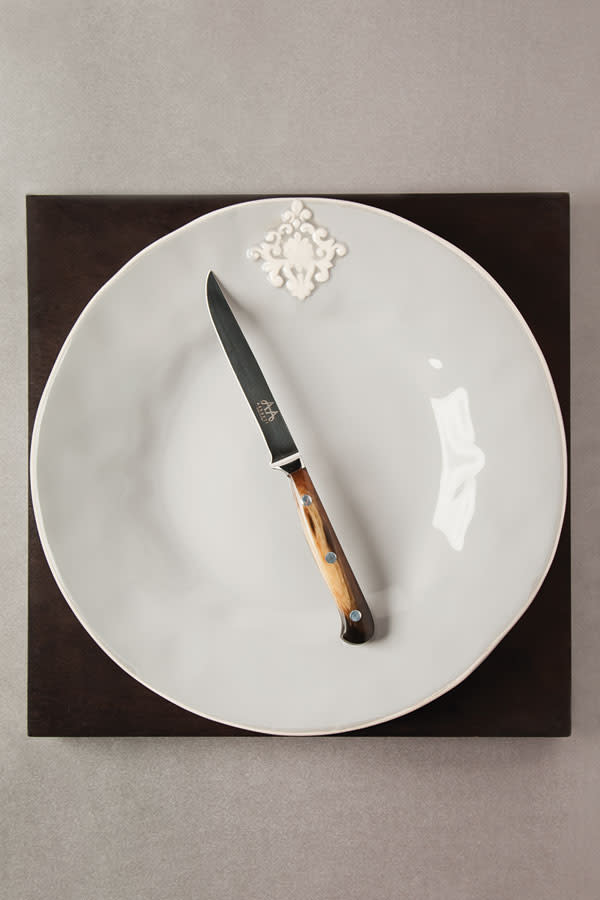 GIFTS & LIFESTYLE
Artisan Cheese Company
Cheese offers a world of taste experiences, and this shop offers award-winning artisanal and farmhouse selections from Sarasota to Spain. The team of experts assists gourmets and amateurs with every aspect of their purchase. Ask for suggestions for pairings with small-batch items like jams, honeys and mustards that grace the shelves, or sign up for a class. Don't miss the signature grilled cheese sandwich. 1310 Main St., (941) 951-7860, artisancheesecompany.com.
The Art of Shaving
Go old-school barber style with an innovative shave kit from The Art of Shaving, a company that has perfected the shaving experience. Build your set to achieve optimal results with their state-of-the-art products, from pre-shave oils to horn-handled shaving brushes to a well-designed razor to a porcelain bowl to lather your shaving cream. The Mall at University Town Center, 140 University Town Center Drive, (941) 702-9802, theartofshaving.com.
As Good As It Gets
Foodies and oenophiles alike make a point to pop into As Good As It Gets to suss out the latest finds. This purveyor offers worldwide delicacies like charcuterie,
Russian caviar, pure Spanish, Greek, French and Italian olive oils, aged balsamic vinegars, teas, coffees, chocolates, imported cheeses and meat. Ask about custom gift baskets for the hard-to-buy-for. 49 S. Palm Ave., (941) 373-1839, asgoodasitgets49palm.com.
Ashley Avery's Collectables
There's a treasure for everyone at Ashley Avery's, one of the brightest jewels in Sarasota. From world-class local art to Majorca pearls to Swarovski's jewelry, their collection holds brands known for time-honored traditions and craftsmanship. Whether it's Italian pottery and glass from Vietri and Murano, or Lladro porcelain, their gifts will become instant beloved family heirlooms. 121 Southgate Mall, (941) 366-3444.
Bella by the Sea
Inspired by the natural beauty and vigor of the coastal lifestyle, the owners have spent years selecting fresh, inspiring objects that make the house a home. In every corner gifts large and small evoke the past, as well as inspire memories yet to be made with their "salvaged home décor," including repurposed furniture, recycled from old factories, barns and commercial buildings. 218 Pine Ave., Unit C, Anna Maria, (941) 896-4848.
The Bradenton Hound
The ultimate destination for pampered pooches—and their owners. In addition to everyday accouterments—leads, collars, bedding and plush playmates—the Hound offers a touch of the whimsical and profound, delighting owners with vintage and antique bowls, artwork, books, stationery and clothing, as well as organic treats for your four-legged friends. 6650 Cortez Road W., Bradenton, (941) 251-5984, thebradentonhound.com.
Elysian Fields
A balanced boutique dedicated to your well-being. Revel in the peaceful atmosphere and explore for sentimental gifts, music, crystals, incense, greeting cards and thousands of inspiring books. Beyond these you'll find Japanese tableware and lamps, jewelry, candles, statuary, Tibetan imports and personal care products like bath soaks and scented oils for a peaceful mind. 1273 S. Tamiami Trail, (941) 361-3006, elysianfieldsonline.com.
Envie
Founder Gerrie Heibel knows that divinity lies in the details. From exquisitely crafted objects sourced from artists and artisans who create one-of-a kind masterpieces to internationally acclaimed brands, each piece boasts a provenance of sophistication. Discover pieces from L'objet, Marjorie Bloom bejeweled leather goods, Global Views accent furniture and a new collection of Murano glass objects.1411 First St., (941) 366-7027, enviehomedecor.com.
Main Street Traders
Main Street Traders appears brand-new with the addition of designer shoes and handbags, and a mix that leans toward fashion made in America from hot brands David Cline, Judy P and Jude Connally. Longtime fans will still find favorite bed fashions, textiles and rugs from Dash & Albert and Pine Cone Hill, but the store now focuses on smart one-stop lifestyle shopping with everything from Tommy Bahama for men to Tyler Boe and Cole Haan for women. 1468 Main St., (941) 373-0475, mainstreettraders.com.
Malbi Italian Artisan Decor
Celebrating Italian craftsmanship and artistry, Malbi bears the nickname of its proprietor, Maria Alberta Borri. The shop specializes in exquisite table fashions—dinnerware, flatware, linens and glasses handpicked by Borri, a native of Parma. Look for high-end, high-style brands found nowhere else in the U.S., and a smattering of cookware, edgy furniture and more. 127 S. Pineapple Ave., (941) 953-3113, malbidecor.com.
Marianne E
Every item in this treasure box tells a beguiling story thanks to Marianne Eriksson, the decorator and owner whose keen eyes ensure a selection of only the most distinguished pieces.
From Foo dogs to alpaca wool throws to enchanting antiques, this boutique speaks to the
hearts of world travelers and pleasure seekers. Gifts from French soaps to custom pillows and luxury accessories make
any corner of your home an escape. 60 S. Palm Ave., (941) 373-1260, mustseesarasota.com.
Moleskine
The art of pen and paper is alive and well with Moleskine's collection of sketchbooks, personal diaries, planners with ribbon bookmarks and coated paper notebooks, some with elastic bands for security for those added items you just might slip in there. There are also products to store and carry those invaluable tech accessories, and you can find the perfect gift for everyone from the grad to the hostess. The Mall at University Town Center, 140 University Town Center Drive, (941) 702-9931, moleskine.com.
The Ritz-Carlton, Sarasota
The shopping experience at The Ritz-Carlton is as luxurious as your stay, with an assortment of indulgences for yourself and signature gifts for those you love, as well as travel fashions. At the spa you'll also find celeb-endorsed beauty products including Jane Iredale, Kérastase, luxe Parisian hair care products and a couture styling collection. Not to be overlooked are the clothes and equipment at the Members Golf Shop. 1111 Ritz-Carlton Drive, (941) 309-2000, ritzcarlton.com/sarasota.
The Tabletop
With endless possibilities for tablescapes and dramatic dining, this boutique offers a feast for the imagination by bringing the best tableware, flatware, glassware and cutlery together in a relaxed atmosphere. From classic crystal and gourmet gift baskets to the contemporary craftsmanship of Alessi, Eva Solo and Nambé, their collection speaks to the needs of every taste. 205 W. Venice Ave., Venice, (941) 485-0319, thetabletop.com.
The White Egret
Family-owned and locally loved, the White Egret is an oasis of inspiration for your own relaxing retreat. The assortment ranges from classic fragrances from Crabtree & Evelyn and luscious Spartina purses to Hen House linens, Mariposa giftware, Root candles and C&F Southern-inspired table and bed linens. Continue on your lifestyle journey with their apparel store (Egret's Nest, next door) and home furnishings boutique (Egret's Landing on Holmes Beach). 10006 Gulf Drive, Anna Maria, (941) 778-3782, thewhiteegret.com.
Wish on Main Street
Saturated with charm and grace, this Lakewood Ranch boutique sets the standard for hospitality. With their gold-level Pandora designation, they offer selections for bath and body pampering, scented candles, stemware and tabletop serving pieces. Designer favorites such as Bosom Buddies, Nest, Voluspa, Brighton and Thymes are always on-trend, and with new items every few days, the discoveries are nonstop. 8111 Lakewood Main Street, (941) 907-9125, facebook.com/wishonmainstreet.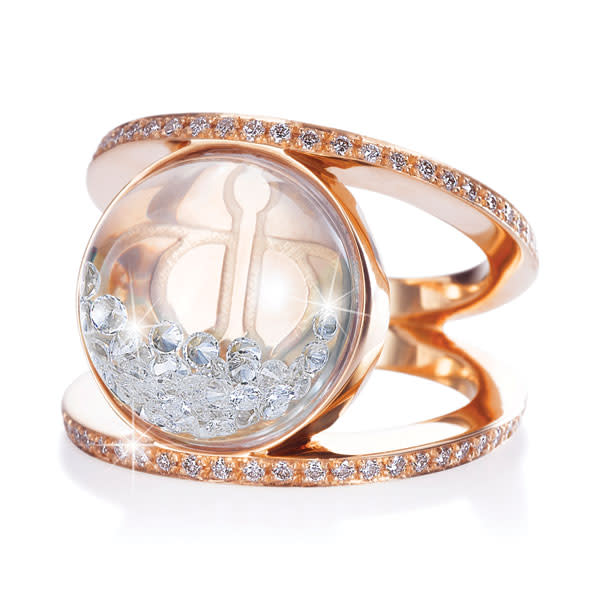 JEWELRY
Armel Jewelers
Known for more than an exceptional selection of gems, jewelry and timepieces. The discerning client will also delight in Armel's collection of giftware and hand-selected art. Shop notable names such as Mark Tanzi, Carl F. Bucherer, Garavelli, Breuning, Tacori and Mikimoto. Stop into the flagship on St. Armands Circle or the satellite store at Bay Street Village in Osprey. 22 N. Boulevard of Presidents, St. Armands, (941) 388-3711, and 3976 Destination Drive, #105, Osprey (941) 966-5878, armeljewelers.com.
Bowman Originals Workshop and Showroom
The innovative and exquisite jewelry design that is a Ned Bowman original seems as if it were just uncovered in an archaeological dig rather than finished in his award-winning workshop. Since 1970, this designer has found inspiration in the cultures of ancient Rome, Greece and the Byzantines, as well as the French Quarter of New Orleans. His work draws the world traveler and lover of the exotic alike. 124 S. Pineapple Ave., (941) 316-9594, nedbowman.com.
Carats Fine Jewelry & Watches
An upscale jeweler with impeccable taste. Stay awhile among the modern, clean-cut cases, where you'll find the finest in designer jewelry like bridal bands, top-quality diamonds and one-of-a-kind estate pieces, as well as pre-owned jewelry from some of the world's most recognizable houses. Brands include Hearts on Fire, Tacori, Scott Kay, Dabakarov, Tissot, Kir, Frederic Sage, True Romance, Oris and Luminox. 1922 Bay Road, (941) 926-3335, caratsfinejewelryandwatches.com.
Coffrin Jewelers
Jewelry gifts that will endure lifetimes are yours at Coffrin Jewelers. Locals depend on Belinda Coffrin's taste in timeless collectibles, custom designs and impeccable craftsmanship as well as on-trend finds for men, women and children. Estate jewels, a spectacular selection of engagement rings and wedding bands, and miles of pearls will surprise even the most discerning aficionado. 1829 S. Osprey Ave., (941) 366-6871, coffrinjewelers.com.
Diamond Vault
This family-owned business with generations of experienced jewelers is a modern-day luxe jewelry emporium in a chic 5,000-square-foot contemporary space. An astonishing collection awaits investor and jewelry enthusiast alike, including an extensive diamond inventory with every size and shape available. Find everything from engagement rings and settings to that tennis bracelet you've always wanted to a forever anniversary piece or a stunning statement pearl necklace. 3979 S. Tamiami Trail, (941) 921-4016, diamondvaultjewelers.com.
Harry Roa Gallery
A must-shop for the discriminating collector of bold, avant-garde pieces. Designer Harry Roa's style is based in the art of the lost wax process and fabrication, which he learned under a Spanish master jeweler. This means that Roa's contemporary designs are truly one-of-a-kind. His exquisite creations with high-quality gemstones can be worn as everyday statement pieces or evening chic. 1638 Main St., (941) 552-8427, oceanlilystudio.com.
June Simmons Jewelry
Whether you're in search of a fashion-forward statement piece, timeless investment or vintage jewels, JSJ offers price points ranging from everyday comfort to high-end collectibles. You'll discover a balance of notable jewelry brands, fine jewelry and custom pieces by June Simmons herself. Get on their list for exclusive trunk shows that never disappoint. 68 S. Palm Ave., (941) 388-4535; June Simmons Jewelry @ The Met, 35 S. Boulevard of Presidents, (941) 388-1030, junesimmonsjewelry.com.
Mayors Jewelers
Generations of discerning customers have come to depend upon Mayors Jewelers because of their philosophy of quality, service and integrity. A trusted, nationally recognized retailer for more than a century, with global access to high-quality jewelry and a selection of jewelry and collectibles that includes new and pre-owned watches with names like Baume & Mercier, Cartier, Breitling, Jaeger LeCoultre and Montblanc. The Mall at University Town Center, 140 University Town Center Drive, Sarasota, (941) 952-1945, mayors.com.
McCarver and Moser
For more than 35 years, McCarver and Moser has been a beacon in the Sarasota jewelry universe, bringing the world's most iconic brands to connoisseurs of fine jewelry, timepieces, custom designs and home accents. A trusted resource for fine and estate jewelry, South Sea pearls and black diamonds, and names such as Patek Philippe, Gucci, Leo Pizzo and Simon G. 482 John Ringling Blvd., St. Armands, (941) 388-3666, mccarvermoser.com.
Optional Art
Dedicated to jewelry that makes a lasting impression, Optional Art provides access to renowned designers as well as names you'll need to know in jewelry design, with a particular focus on contemporary elegance. The boutique is home to an unusual selection of inventive steel and titanium jewelry for men and women, in addition to Tahitian pearls, gem stones and diamonds. Notables like The Gellner Collection, Robert Wan and Michael Weggenmann, too. 119 S. Pineapple Ave., (941) 955-4400, facebook.com/optionalart2.
Queens' Wreath Jewels
Owner Tina Taylor Little has an uncanny knack for discovering exquisite jewelry designers combining refinement with a cutting-edge aesthetic, all with an heirloom quality. She marries these finds with the must-haves in classic as well as modern jewels. Discerning clients will find stars of the industry like Ivanka Trump, Beaudry, Zydo of Italy, Cassis and Piranesi as well as handpicked gems known as the Queens' Wreath Crown Jewels Collection. 17 Fillmore Drive, St. Armands Circle, (941) 388-9125, queenswreathjewels.com.
Shrode Jewelers
For nearly 80 years Shrode has created relationships with generations of collectors, combining personalized small-town service with elegant international design. The discerning collector will delight in perusing the selection, which spans from fashion to fine jewelry with names like Gabrielle, Oliva and Elle. Also a space for the finest in home accents; browse collectible names like Lladro porcelain, Lalique and Waterford crystal. 1433 Main St., (941) 365-4234, shrodejewelers.com.
Tilden Ross Jewelers
A local boutique with global appeal, launched 30 years ago by Gail and Richard Ross. One secret to their longevity has been remaining true to their original intent to provide exceptional quality at a fair price with excellent service. The couple source international and American designers such as Stefan Hafner, Crivelli, Alex Sepkus, Marco Bicego and Yvel. In-house custom design as well. 410 St. Armands Circle, (941) 388-3338, tildenrossjewelers.com.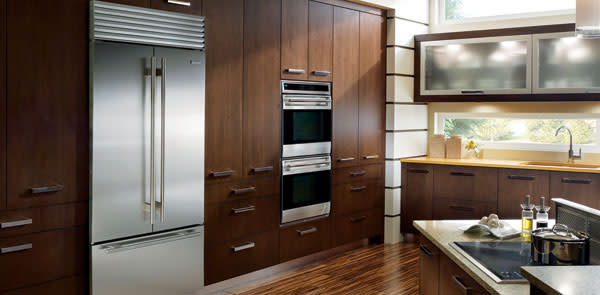 HOME RENOVATION
Allikristé
Clients flock to this cosmopolitan showroom and design center for top-tier brands, including furniture-grade cabinetry from Wm Ohs and SieMatic. Designer cabinets are featured in vignettes with custom and semi-custom options for kitchens, baths, closets and more. Designers at Allikristé seamlessly integrate kitchen and family rooms with complementary materials. Turnkey kitchen design includes granite and marble countertops, Sub-Zero and Wolf appliances. 1530 Dolphin St., Suite 8, (941) 447-4401, allikriste.com.
Affinity Kitchen and Bath
Affinity offers regal remodeling and over 300 combined years of experience from a staff of in-house designers, fabricators and installers. Clients are guided through their dream remodel or new construction projects with special attention to innovative design details, as well as cost and quality, with complimentary in-home consultations, estimates, 3-D project illustrations and more. 1035 N. Lime Ave., (941) 953-3240, srq-kitchens.com.
Cook's Custom Cabinetry
For 40 years, Ron and Margaret Cook have been the dynamic duo of kitchen and bath design solutions in the Sarasota community. Their showroom and acclaimed work at annual ASID showhouses reveal how they can translate dreams into reality with customized furniture-grade American and European cabinetry. Cook's is committed to realizing their clients' every wish with flawless attention to detail. 1191 Palmer Wood Court, (941) 366-6112, cookscustomcabinetry.net.
Distinctive Surfaces of Florida
The building blocks of top design are the specialty at Distinctive Surfaces, which offers complete design, fabrication and installation for custom countertops for kitchens, baths, outdoor entertainment and cooking spaces. With a showroom and expansive outdoor displays, they provide secrets and tips from experts on choices including granite, Zodiaq, Silestone and Corian. Look also for wenge and paduak woods, and even Brazilian cherry. 8272 Vico Court, (941) 377-7747, dsiflorida.com.
European Marble
Sterling service and global style make European Marble the granite and marble destination for discerning Sarasota consumers and interior designers. With a bespoke approach from start to finish, owner Joseph Lubrano's staff completes all work in-house, from design to installation. The showroom displays a range of applications from contemporary to classic. This is the place to begin your design journey with natural stone and tile. 1820 N. Lime Ave., (941) 955-9536, europeanmarble.com.
Eurotech Cabinetry
For 31 years the award-winning design experts at Eurotech Cabinetry have made clients swoon over dream kitchens and custom cabinetry. With a national reputation for luxury high-end kitchens and baths via awards such as the 2012 People's Pick for Best Kitchen from HGTV, their designers fashion cabinetry for every imaginable taste—from high-tech European to Art Deco and Old World elegant. 1609 Desoto Road, (941) 351-6557, eurotechcabinetry.com.
Ferguson Bath & Kitchen Gallery
You might say Ferguson Bath & Kitchen Gallery is Sarasota's design fixture. With nearly every-thing to transform the fittings in your kitchen and bath, it's the area's one-stop wonder. Their collection includes faucets, tubs, sinks and toilets as well as hardware and fittings. Look for sophisticated designs from around the world in an upscale gallery complete with a comprehensive selection of lighting and kitchen appliances. 2451 17th St., (941) 951-0110, ferguson.com.
Florida Builder Appliances
With its sophisticated style, Florida Builder Appliances is ranked Florida's largest distributor of prestige kitchen, laundry and outdoor cooking appliances. A culinary destination for professional chefs and design industry mavens, the showroom combines impeccable service with 40-plus premium chef-endorsed brands (among them Wolf, La Cornue, Sub-Zero and Miele). Cooks flock to their demonstration kitchen, where visiting chefs and appliance reps reveal their excellent taste. 5670 Fruitville Road, (941) 926-0700, monarkhome.com.
Gorman's Bath Gallery
The art of the bath is celebrated in over 3,000 square feet of only the finest bath fittings and accessories.  With 30 years of experience, Gorman's helps clients discover their own style with world-renowned product lines, including The Bold Look of Kohler, Hansgrohe, Moen, Rohl, MTI and many more. Seasoned, trained and design-literate showroom associates impart personal advice and service from start to finish. 5355 McIntosh Road, Suite B, (941) 927-8511, gormansbathgallerysarasota.com.
Hill's Kitchen and Bath Design
While its roots are in kitchen and bath plumbing and fixtures, this award-winning showroom features inspirational settings with cabinetry, countertops and more to illustrate its complete floor-to-ceiling remodeling and design services. With 60 years of experience in the finest fashion brands, Hill's now also carries and installs ADA-approved products from grab bars to walk-in bathtubs. Check out the new Toto fixtures and the latest state-of-the-art shower systems. 249 Grove St. S., Venice, (941) 315-4768, kitchenandbathremodelingvenice.com.
LUBÉ of Sarasota
La dolce vita is the promise at Sarasota's showroom for chic Italian style. Housed in a new Palm Avenue location, this kitchen and bath design company specializes in Cucine LUBÉ's Italian-made kitchens from high-tech contemporary to traditional Tuscan. The showroom also indulges your design dreams with carefully selected lines including American-made Bishop Cabinets and North American Cabinets of Canada. 53 S. Palm Ave., Suite A, (941) 954-0200, lubeofsarasota.com.
Metro Cabinet Company
At Metro Cabinet Company, it's what's inside that counts. The team at Metro brings the same quality work, upbeat attitude and superlative style to kitchen and bath construction, space planning and interior design projects of every size. Eighty years of collective experience means they tackle any challenge, from commercial to residential, with personal attention, care and commitment. 6222 Tower Lane, A-9, (941) 377-8777, metrocabinetcompany.com.
Mullet's Appliances
Known for their innovative indoor and outdoor kitchen showcases, Mullet's caters to clients looking for state-of-the-art style. Impeccable service has secured loyal clientele that demands only the best international appliance brands. Always one step ahead, this showroom always has the latest captivating high-tech options from all the luxury names: Sub-Zero, Wolf, Bosch, Miele and more. 4233 Clark Road, (941) 921-5531, mullets.com.
Plumbing Place
Transform your bath into an enviable salle de bain at this 6,000-square-foot showroom—the ideal place to secure the necessary detailed design elements for the resort-style spa bath. With top international brands, their designer showroom staff assists home remodelers with every step of their projects with the most innovative and high-fashion sinks, faucets and rain showers, and a full line of Toto fixtures. 5678 Fruitville Road, (941) 378-5678, theplumbingplace.com.
Tile Market of Sarasota
From ancient wonders of the world to contemporary masterpieces, the Tile Market's Brigid Saah (designer, ASID) and a team of specialists bring infinite knowledge, experience and substantive aesthetic to Sarasota. They've collected the finest tile, porcelain, glass and stone from around the world to add a lifetime's worth of cosmopolitan flair and aplomb to any area of your home. 1962 Main St., Suite 120, (941) 365-2356, tilemarketsarasota.com.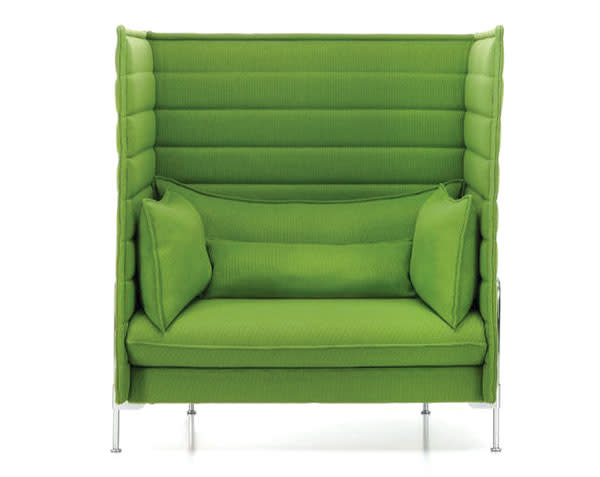 HOME
Art to Walk On
Art to Walk On delivers style, substance and serendipity for shoppers mesmerized by proprietor Eileen Hampshire's pedigreed antique and artful modern rugs. Her picks entice both style-wise tourists and local followers. In addition to lectures and exhibitions, the shop beguiles with area to mansion-sized rugs from Persia, Turkey, Afghanistan, Ireland, France, Tibet and more. 16 and 17 S. Palm Ave., (941) 951-5454, arttowalkon.com.
Bee Ridge Lighting & Design
This local institution stays ahead of lighting fashion trends in a 28,000-square-foot showroom stocked with everything from Swarovski crystal bathroom fixtures to chic Italian chandeliers. With names like Flos, Lightolier and Fine Art Lamps, the selection includes all lighting categories, plus fans, mirrors and home accents from fashion leaders like Christopher Guy. Professional interior designers on staff. 3909 Bee Ridge Road, (941) 922-2626, beeridgelighting.com.
Black Bird Lifestyle
Understated elegance abounds in soft contemporary and transitional furnishings, curated with a laid-back California-meets-Sarasota aesthetic. From upholstery made by top names to the store's impeccable selection of accessories from names like Arteriors, the mix is engaging and luxurious. Look for a new addition of Ralph Lauren Home accessories, men's jeans, shoes and more. 1540 Main St., (941) 366-0941, blackbirdlifestyle.com.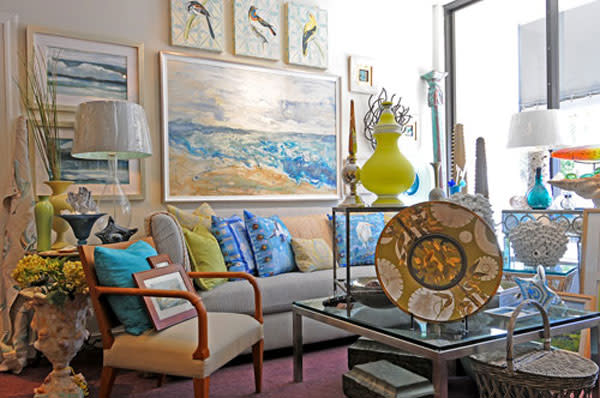 Current
Discover exquisite items for your home at the retail operation of interior designer Sally Trout's studio. The store features upholstery and decorative accessories from top showrooms and an incredible selection of lamps, original artwork and prints. And you can glean more ideas and assistance at Sally's office next door, which holds thousands of fabrics and hundreds of catalogs for made-to-order items. 83 Cocoanut Ave., (941) 953-4418, sallytroutinteriors.com/current.
Ethan Allen
Floor-to-ceiling style is the catchphrase at this new showroom opposite The Mall at University Town Center. In addition to furniture, everything from rugs and draperies to wall art and lighting is coordinated into carefully edited looks representing one of America's oldest lifestyle brands. The new philosophy here is updated traditional and of-the-moment transitional styling favored by designers. Complimentary design service offered. 271 Cattlemen Road, (941) 924-3875, ethanallen.com.
European Traditions
Old World meets new at this showroom, featuring furniture you can buy off the floor or order custom-tailored. They're known for updating traditional classics with distressed and white-washed finishes; also look for cabinetry for gourmet kitchens, entertainment and library wall units, tables, chairs and a bevy of accessories. Design magazine looks are all here, combining heirloom quality and competitive pricing. 6030 Clark Center Ave., (941) 921-5616, european-traditions.com.
Home Resource
Contemporary and modern furniture and accessories from the design world's most coveted names. Home Resource has been steadily building a coterie of brands offered exclusively on the west coast of Florida, including Cappellini and Poltrona Frau. Look for iconic pieces from Knoll, Herman Miller and Moroso. Owners Kathy and Michael Bush travel to international furniture fairs to secure dibs on new talent and the most significant global luxury brands. 741 Central Ave., (941) 366-6690, homeresource.com.
Indigo West
Recognized by design magazines as a leader in coastal style, Melanie Ann Denicourt has spearheaded a trend to a more sophisticated European interpretation. At her Pineapple Avenue location, a completely reimagined boutique called Indigo West replaces the beloved Coquillage on Main Street. With a new emphasis on accessories rather than furniture, decorative objects from vases and lamps to linens and mirrors now include Melanie's own indoor-outdoor pillow collections. 134 S. Pineapple Ave., (941) 487-7160, restylesource.com.
Light Up Your Life
Design aesthetes with tastes for exquisite lighting flock to this 6,000-square-foot emporium of international brands. Nearly 200 top names are featured, from Swarovski crystal chandeliers to contemporary Flos and Foscarini designs. Pros help create personalized solutions for residential applications indoors and out. But the real fun is walking the ever-changing exhibits of new styles and artistic designs from around the world. 1620 N. Tamiami Trail, (941) 330-0422, lights-sarasota.com.
Lyteworks
Accessories make the room, and this Bradenton institution is brimming with choices from the fashion-forward to Old World classics. The ever-changing selection includes all lighting categories, plus fans, mirrors, home accents and even wall art in a warehouse-sized showroom. 816 Manatee Ave. E., Bradenton, (941) 745-2900, lyteworks.com.
Matter Brothers Furniture & Design
Think Coastal Living meets House Beautiful and Domino. With everything at hand to create an eclectic look—from reclaimed rustic chic furniture to a major selection of Natuzzi leather—walking the aisles of this 100,000-square-foot furniture emporium is like stepping into the pages of your favorite design magazine. Accessories from rugs to lighting and art make head-to-toe decorating a breeze on your own—or with the help of an in-house design studio. 4675 Clark Road, (941) 960-4410, matterbrothersfurniture.com.
Mélange
Bed linens made from the world's rarest cotton are found here, along with luxury gifts, tabletop items and essentials for the home. Greg Geidel, ASID, carries designer brands Yves Delorme, Hamburg House, Juliska and more. From custom monogrammed towels to table linens, the look is luxurious and upscale. 64 S.Palm Ave., (941) 444-7969, melangehome.com.
Pecky
A bastion of understated casual elegance brimming with Belgian linen upholstery, natural fiber rugs and artisan-made decorative accessories. The emphasis is on objects of Old World master craftsmanship counterpointing rustic-chic mirrors, consoles and coffee tables made locally from reclaimed cypress and heart pine. Among the luxuries: Simon Pearce hand-blown glass, Christopher Spitzmiller ceramic glazed lamps, original artworks and Verellen armchairs. 100 Central Ave., Suite 1026, (941) 957-0300, peckysrq.com.
Posh
Create your own haven of shabby chic coastal style with one-stop shopping at Susie and Mark Holt's boutique. Look for vases, lamps, chandeliers and mirrors artfully embellished with shells, vintage furniture with the requisite chippy white paint, and dreamy white slipcovered upholstery. For total immersion, there's a selection of jewelry, sleepwear and Belle Notte bed fashions. 327 W. Venice Ave., Venice, (941) 786-1008.
Robb & Stucky Interiors
An elegant assortment arranged to demystify the shopping experience, this combination retail store and interior design company has its collections divided into transitional, traditional and contemporary lifestyles. There are also beautifully merchandised shops featuring world-class brands and inspirational decorative accessories. The mix includes indoor and outdoor furnishings by Ralph Lauren, Christopher Guy, E. J Victor and Henredon. Complimentary design service. 7557 S. Tamiami Trail, (941) 702-8400, robbstuckyintl.com.
Rugs As Art
A superstore of rugs from Persian classics to fashion-forward transitional designs, the 18,000-square-foot Rugs As Art showroom provides all the important designer brands plus hand-picked choices. Founders John and Lucy Murse have inspired rug stores across the country with their displays, assortment and diverse flooring options, such as casual woven grasses, carpet, hardwood, tile and stone. Interspersed throughout are furniture, accessories and art from around the world. 6650 S. Tamiami Trail, (941) 921-1900, rugsasart.com.
The Sarasota Collection Home Store
Refined elegance pervades this home furnishings store with a transitional designer look curated by owners Marcus and Pam Anast. The pair's passion for reinterpreting classics with an edgy new flair has resulted in a mix of bespoke furniture designs fabricated in their factory in Peru with coveted international brands. Don't miss a selection of luxe outdoor pieces from the U.S. and Europe in a dramatic outdoor setting. 622 Central Ave., (941) 955-8313, sarasotacollection.com.
Soft Square
The look is sleek yet livable contemporary in a temple of design devoted to European furniture and accessories style leaders from Calligaris to Cattelan Italia and Vitra. The showroom boasts a sampling of office furniture, as well as high-end lighting collections and displays of upholstery and wood, metal and glass pieces in striking minimalist settings. Founders Teliee and Svetka Popov offer complimentary design services. 1506 Fruitville Road, (941) 554-4068, softsquare.com.
Sunshine Boyz
Daniel Charney and Brian Corson are the "boys" of Sunshine Boyz Island Home, and their concept is a fresh new spin on traditional coastal design. Furniture and accessories range from rustic to casual refined. Look for updated British colonial, transitional organic wood pieces, plump upholstery and designer wicker. Coastal brands from Gabby Home to Palecek are augmented with art and hand-crafted accessories by local artisans. 1950 S. Tamiami Trail, Venice, (941) 525-6111, sunshineboyz.net.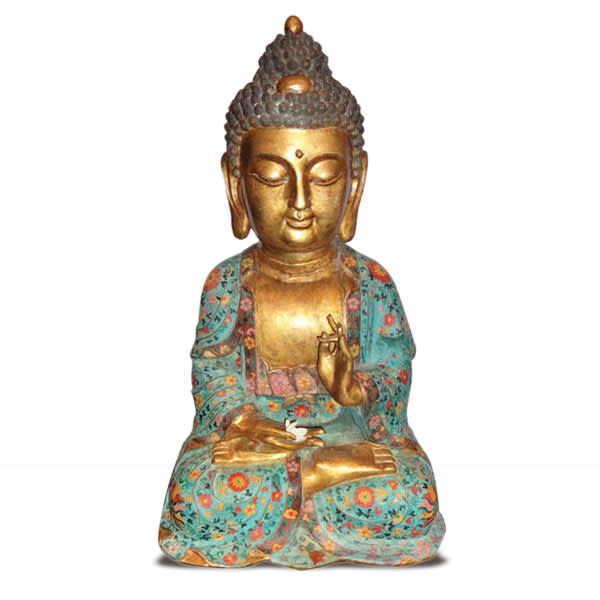 ANTIQUES
Burke Antiques
Cheryl Burke has developed a global following for pedigreed antiques from Europe, Africa and Asia. Discerning collectors love to browse the inventory of estate jewelry, art and rare finds hand-selected for her eclectic marketplace—also a resource for a cherished Buddha of Thai, Burmese, Chinese or Cambodian descent as well as estate jewelry. Stay in touch through 1stdibs.com. 12 S. Palm Ave., (941) 952-0042, burkeantiques.net.
Crissy Galleries
Specializing in elegant antique furniture and design objects, vintage jewelry and fine art, Crissy Galleries has cultivated a following with collectors across the country. Wander the showroom and you'll deduce that owner/curator/dealer Bruce Crissy has access to some of the finest art and antiques available, including 18th- and 20th-century furniture, porcelain, cut glass and silver. Don't miss the "vault collection" salon resplendent with Tiffany glass and Handel lamps. 640 S. Washington Blvd., (941) 957-1110, crissy.com.
Ford Art & Antiques
With multiple locations in the city, Andrew and Elizabeth Ford are among Sarasota's largest antiques dealers, and their empire is growing. In addition to Ford Art and Antiques, which specializes in 18th-, 19th- and 20th-century fine art, antiques and accessories, they own Sarasota Trading Company, a haven for midcentury modern furniture and paintings. Dealers and collectors are regulars at Sarasota Estate Auction, the couple's 7,000-square-foot auction house at 6030 N. Lockwood Ridge. Ford Art and Antiques, 136 S. Pineapple Ave., (941) 650-8854; Sarasota Trading Company, 522 S. Pineapple Ave., (941) 953-7776, andrewfordfineart.com.
Jack Vinales Antiques
New owners Chieko and Brandy Bransome honor the legacy of shop founder Jack Vinales by perpetuating his passion for world-class collectibles. Treasures ranging from the 1940s to '70s include American art pottery, Bakelite, midcentury art and modern furniture, Fiestaware and designer sterling. The inventory often includes hard-to-find Haywood Wakefield and George Nelson pieces, and the Bransomes have added their personal stamp with a collection of vintage rugs. 500 S. Pineapple Ave., (941) 957-0002, jackvinalesantiques.com.
Steven Postans Antiques
A wonderland of classic British furniture and decorative accessories, Steven Postans Antiques is a wholesale mecca for dealers and a favorite for Sarasota designers and decorators.  Browse through a 28,000-square-foot warehouse housing more than 2,500 unique pieces from a potpourri of sources, from Florida estates to Australia and Shanghai. Check out a substantial collection of grandfather clocks. 7881 15th St. E., Sarasota, (941) 359-9898, stevenpostansantiques.com.
AUTOS
Alex Karras Lincoln
Whether you begin your research online with the Build and Price A New Lincoln link or you browse the Bradenton location, you'll be dealing with a premier Lincoln dealership. If it's pre-owned you're in the market for, search the inventory for the perfect, low-mileage vehicle. New car shopping tools alert you to ever-changing promotions and specials. 6760 14th St. W., Bradenton, (941) 756-4004, karraslincoln.com.
BMW of Sarasota
Bayerische Motoren Werke, aka BMW, has a distinguished history as the ultimate driving machine. Search an arc of future-forward choices, from motorcycles to the 7 Series to the long-awaited electric BMW i3 sedan. Schedule a test drive of a legendary performance vehicle that rocks the reviews year after year. 5151 Clark Road, (941) 556-2964, bmwofsarasota.com.
Coast Cadillac
If you're in the market for an American classic vehicle with clean lines and performance, new or pre-owned, from the CTS to the ATS, then take exit 207 at I-75 to find the best this car company has to offer. Find out why this automotive legend has inspired musicians for decades from Dizzy Gillespie to Lorde. 2200 Bee Ridge Road, (941) 922-1571, coastcadillacsarasota.com.
Crest Cadillac
Below the craftsmanship and award-winning designed hood of a Cadillac is an engine to match. No wonder this legend of the auto industry garners perpetual critical acclaim, clearly distinguishing its foothold while remaining relevant and desirable to all generations. 2367 Tamiami Trail S., Venice, (941) 497-5800, crestcadillacvenice.com.
Dimmitt Automotive Group
Whatever your desires, luxury vehicles are on site at Dimmitt. Envelop yourself in exclusive style in an Aston Martin, Bentley, Cadillac, Land Rover, McLaren or Rolls-Royce. For those who want to take their wheels up a notch, explore their Aspire division to customize your ride. Be on the lookout for the new location on State Street in downtown Sarasota, coming soon. 3333 Gandy Blvd., Pinellas Park, (727) 822-2019, dimmitt.com.
Ed Howard Lincoln
Surf the extensive Ed Howard Lincoln inventory online or pop in to chat with one of their knowledgeable sales staff. Whether it's a luxury car or crossover, new or certified pre-owned vehicle, it can be found in the vast showroom. Not to be missed are the inventory, service and parts specials advertised online. 7110 S. Tamiami Trail, (941) 921-4402, edhowardlincoln.net.
Lamborghini Sarasota
Exhilaration awaits within the two exquisite doors of this Italian grand touring car—brains, beauty and brawn born and bred by Ferruccio Lamborghini in 1963. A time-honored performance vehicle of refinement, power and comfort. Lamborghini Sarasota is the leading authorized dealer of new and pre-owned Lamborghini vehicles for the Gulf coast and also a factory-authorized service center. 5145 Clark Road, Sarasota, (941) 556-2980, lamborghinisarasota.com.
Land Rover Southpointe
According to the ALC Premium Brand Award, Land Rovers retain their value better than any other vehicle in the premium segment. No surprise, then, that more than six decades on, Land Rover and Range Rover have become the ubiquitous four-wheel drive luxury sports utility vehicles. Land Rover Southpointe showcases the next level of luxury in its selections of new and pre-owned vehicles. 5141 Clark Road, (941) 308-5141, landroversouthpointe.com.
Lotus Southpointe
It's all in the engineering and pedigree when a car can be both featherweight and ground-pounding at the same time. As a sports and racing car, the always future-forward automaker produces its fine-handling iconic automobiles for racing enthusiasts as well as those who want fun within the speed limits. 5141 Clark Road, (941) 308-5141, lotussouthpointe.com.
Mercedes-Benz of Sarasota
Here's your all-access pass to the automotive titan with German engineering lineage. The Mercedes-Benz of Sarasota showroom is one of considerable class and selection, from the sleek CLS Class to the powerful SLR Class to the zero-emissions B Class Electric Drive. Be on the lookout; 2015 is the year for the newly facelifted CLS and sedan. 4754 Clark Road, (941) 275-1293, mercedesbenzofsarasota.net.
 Suncoast Motorsports
This bastion of mechanical engineering caters to driving progressives as well as traditionalists, with Audi's handsome sports sedans and coveted Porsche models known for performance, elegance and racing history. Whether you're in the market for new or pre-owned vehicles, the specialists here will steer you to the driving experience of your dreams. 5005 S. Tamiami Trail, (941) 923-1700, suncoastmotorsports.com.
Tesla Sarasota
A combination showroom and learning center teaches the benefits of electric cars and Tesla's sexy-fast models in particular. Tesla Motors is preparing to introduce the new model X, a seven-seat sport utility vehicle with the performance of its Tesla S, one of the fastest and best-handling cars on the road. Ask for a test drive of one of their unique vehicles for a glimpse of the future. The Mall at University Town Center, 140 University Town Center Drive, (877) 798-3752, teslamotors.com/sarasota.
Tropical Cadillac
With the arrival of the 2016 Cadillac ATS-V coupe, General Motors' icon of elegant motoring is aiming at imported sports coupes like the BMW3328. New power and handling create a performance vehicle that's technologically aggressive and an elegant machine with roots in the racing circuit. Plus: a full assortment of Escalades. 4780 14th St. W., Bradenton, (941) 751-6886, tropicalcadillac.com.
Wilde Jaguar of Sarasota, Wilde Lexus of Sarasota, Wilde Maserati
For luxury and panache, Wilde Motors is the standard of excellence. With Jaguar, Lexus and Maserati, Wilde offers exceptional performance in three of the world's top brands. The luxurious world of Wilde Jaguar equates to superior knowledge of the brand's performance, wrapped in sensuous design. Fans flock to Wilde Lexus for handsomely appointed performance vehicles, from hybrids to convertibles to SUVs to sedans. And Wilde Maserati offers the unique combination of power and luxury in one of the most beautifully designed bodies on the road. Wilde Jaguar of Sarasota, 4821 Clark Road, (941) 924-3019; Wilde Lexus of Sarasota, 4883 Clark Road, (941) 924-3040; Wilde Maserati, 4821 Clark Road, (941) 924-3019, wildecars.com.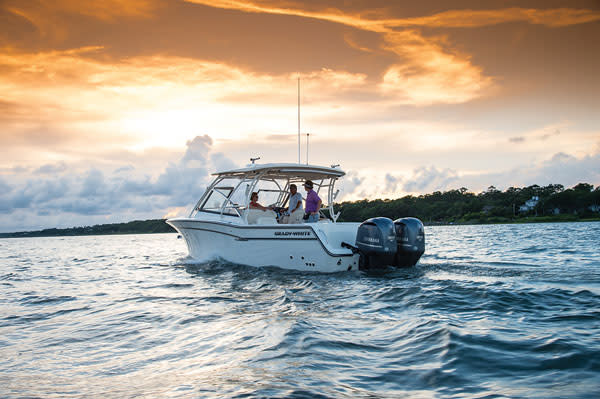 BOATS
Cannons Marina
Family-owned for 60 years, Cannons has worked with generations of boaters, cruisers and fishermen. Offering an exclusive selection of boats, motors and accessories, the company is recognized as one of America's elite boutique boat dealers. Every brand is carefully selected, with a line-up including Jupiter, Grady-White and Southwind. 6040 Gulf of Mexico Drive, Longboat Key, (941) 383-1311, cannons.com.
Chris-Craft
Based in Sarasota, Chris-Craft is on a mission to build boats that stand out in a sea of sameness, and to create an unforgettable boating experience. For over 140 years the company has been defined by American-made boats and yachts, impeccably created for agile performance, timeless beauty, dependability and stylish comfort. 8161 15th St. W., (941) 351-4900, chriscraft.com.
Galati Yacht Sales
Dreams of boat ownership become reality at Galati, a family-owned showroom and brokerage. In business since 1970, with a reputation for unsurpassed service, Galati Yacht Sales has been selected for the 2015 Best of Destin Award in the yacht brokers category. Look for a stellar range of choices from sport fishing yachts to classy Viking and Tiara models. 900 S. Bay Blvd., Anna Maria, (941) 778-0755, galatiyachts.com.
Hidden Harbor Marina
A state-of-the-art facility, this is the new "it" place to safely store your vessel. It's an easy-to-access home for your boat, with ample dry storage and call-ahead concierge service. Easy boat launching, plus an on-site restaurant, bait and tackle and ship store. 7700 S. Tamiami Trail, (941) 927-4800, hhmarina.net.
MarineMax
For more than 40 years those who want to live the boating lifestyle have depended on MarineMax as a resource for their passion. Here you'll have access to world-class service, financing, insurance and educational programs and can spot your perfect mate, whether it's for leisure, fishing, watersports or vacationing waterside. 1601 Ken Thompson Parkway, Sarasota, (941) 388-4411; 1485 Tamiami Trail S., Venice (941) 485-3388, marinemax.com.
Tom George Yacht Group
Designed to serve every need of its seafaring clients, the Tom George Yacht Group provides experts who will assist with everything from yacht management to a worldwide search for your dream yacht. They can arrange everything from a fully staffed exotic charter for a day to a fleet of pleasure boats, or handle every detail of new construction. 343 Causeway Blvd., Suite 210, Dunedin, (727) 734-8707, tgyg.com.
PLANES
Rectrix Aerodrome Centers
A luxurious facility on nearly 20 acres of airport property, Rectrix offers more than 180,000 square feet of aircraft hangars and passenger service facilities. Designed around the owners' needs to accommodate specific aircraft up to the Gulfstream and Global Express, the Rectrix Hangarminium project offers the benefits of hangar ownership without the hassles. 8250 15th St. E., (941) 358-9600, rectix.aero.