Article
Mr. Chatterbox's Guide to The Mall at University Town Center
A boomer's guide to the new mall.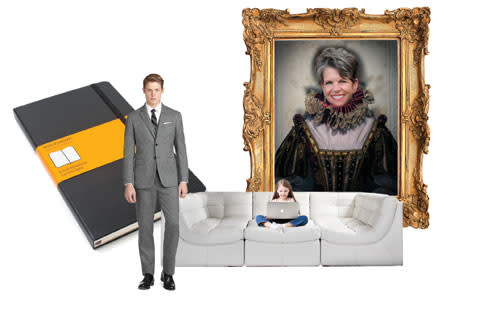 Boy, isn't the new Mall at University Town Center something? I was a little worried it would turn out to be a second-rate conglomeration of stores I had no interest in and/or couldn't afford, with crazed shoppers adding insult to injury by cluttering up my neighborhood (I live in Palm Aire) with their gas fumes and gridlock.
Instead, the traffic problem never really happened—not yet, anyway—and the stores are a great mix of glamorous objets and stuff you can actually use. And for those of us with bladder control issues, the bathrooms are well located and very clean, except for the one that's down a long, long, loooong hallway.
Yes, we boomers are fussy about our malls. They've been an important part of our lives. True, most of us didn't hang out in them as teenagers because they really hadn't been invented yet, but over the years they have defined our obsession with consumerism and what to do with our Saturday afternoons. Now they say the mall is in decline and not long for the world—sort of like us. But if that is true, then The Mall at University Town Center is a sort of "last hurrah," the pinnacle of perfection that we might as revel in while we still have the chance.
Here's a little guide to the new mall for the curious boomer population….
The first store you should make a beeline for is Moleskine, that company that makes those little notebooks that are so classic and hip and timeless. Here, you should immediately buy the cheapest one—about $10—and write down exactly where you parked your car. I didn't and lived to regret it. That "3" that I memorized as the aisle I was in turned out not to be an aisle at all but an entire section of the parking lot, about five acres in size.
After an exertion like this, it's time for a treat. If you're like me, treats become more important as you age, particularly if they involve ice cream and chocolate. First check out Sweet Doctors, which sells "cake balls," cupcakes and cookies. I found them all excellent. Even more exciting was the Godiva store. Here, in addition to the candy, they have waffle cones with soft serve ice cream, plus something called Trufflelatas, which are like milk shakes that they make with real Godiva truffles. They even have a "Chocolate Club," which I immediately joined. You get your sixth Truffelata free, plus a free piece of candy every month. Not bad, considering that some of their chocolate costs over $100 a pound. Now I have an excuse to drive over every third Saturday.
There are more treats upstairs, in Williams-Sonoma. I bought a jar of chocolate pecan pie filling, even though I don't bake pies. I plan to heat it up in the microwave and eat it out of a cereal bowl. They also have these "cocktail mixers" that you add to gin and/or vodka in flavors like Yuzu-Meyer Lemon and Pomegranate Blueberry. And you can't help but marvel at their selection of olive oil and specialty vinegars. I was about to load up until I noticed that there's another place nearby that has nothing but oil and vinegar. In fact, it's called Oil and Vinegar, and they have free samples….
By this time I was starting to feel a little queasy, so I decided to sit down in one of the  home furnishing stores. There's a Pottery Barn and a Crate and Barrel, both of which feature the "arty college professor with a trust fund" look, but the big surprise was a place called Z Gallerie.
I'd never been in one before and I was quite amazed. Everything is shiny and bright, with mirrors and feathers everywhere. I kept thinking, "This must be just what Kim Kardashian's bedroom looks like."
You know how with us boomers, comfort becomes very important? We've gotten to the age where things can't be too soft or too cushy. Well, at Z Gallerie they have the most amazing piece of furniture. It's called the Cloud. Everybody who walked by stopped in their tracks and stared at it. It's like a great big combination sofa/bed/playpen. The minute I saw it (see picture) I knew I wanted one in my den, although not I'm sure my knees can take the constant crawling.
What about clothes? For boomer males, the new mall has the perfect mix of clothing stores, places we've grown up and old with. There's the Brooks Brothers of our college days, then the Banana Republic of our middle years, and finally Tommy Bahama, which allows us to be hip yet informal now that we're living in Florida. As far as women's clothes go, I'm not a very good judge, but I think I'd avoid a store called Forever 21 just on general principles.
The most controversial element about the new mall is the lack of a food court, and here I'm sitting on the fence. Yes, it makes the place seem classier, and eliminates the gangs of marauding teenagers and keeps the geezers even older than us from getting food and grease stains all down the front of their shirts, but this is, after all, a mall. They try to make up for this by the aforementioned treat stations and a nice selection of upscale chain restaurants that you can peek into through the windows and see people enjoying $16 hamburgers in an atmosphere that reminds me of Las Vegas or Dulles Airport. But mark my words—in a year or two, somehow a food court will appear. It's just too obvious an omission.
But the new mall's greatest attraction for us boomers can be found where Saks Fifth Avenue faces off against the Apple Store. They're right across from each other, and in that sacred space can be found the story of our lives and the predicament we find ourselves in.
Since it opened in 1996, Saks has always been right at the pinnacle of the Sarasota lifestyle. For affluent boomer style, it's hard to beat, and much of the town's party-giving, charities and gossip have revolved around it. A lot of this can be attributed to Sally Schule, its marketing director. She's become one of the most powerful women in town, and when she recently gave me a quick tour of the new store, she was besieged by women begging for sponsorships, gift baskets and fashion shows for their charities. Sally just smiled enigmatically and handed them one of the sugar cookies she happened to be passing out.
And now Saks is staring at a brand-new world, as are we all. Right across the mall's sky-lighted atrium is our very first Apple store. It's the epicenter of everything we boomers are secretly in fear of—all those machines that we don't quite understand, where you can literally buy anything in the world—if you know how—and make new friends and send them pictures of yourself in your underwear. If only…if only we were younger, if only our brains weren't already so full of stuff, if only we knew what an app was…
That's the new mall for us boomers. Longing and regret, mixed with pride in our past and astonishment at what interesting lives we've had. It's all there, scattered amongst the oil and vinegar, the Clark Desert Boots, the make-up counter at Macy's and the Venus Med Spa, flashing before our eyes and pulling all the disparate pieces of our lives together.
For more from Mr. Chatterbox, click here. >>
This article appears in the December 2014 issue of Sarasota Magazine. Click here to subscribe. >>