Article
Sarasota Magazine May 2014: Best of Sarasota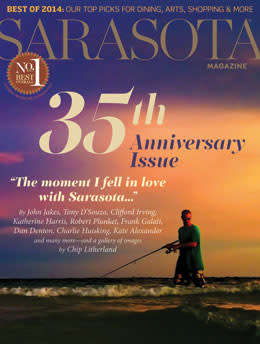 Subscribe to Sarasota Magazine
FEATURES
Our editors salute 35 of the best new shopping, dining, cultural and fun experiences of the year. Plus, the winners of our readers' poll.
For our 35th anniversary, an honor roll of contributors—including bestselling novelists John Jakes and Clifford Irving, Tony-award-winning director Frank Galati, former U.S. Rep. Katherine Harris and a host of other local luminaries and neighbors, recall moments that inspired their love for Sarasota; and Chip Litherland showcases the city's beauty in a stunning portfolio of photos.
Sarasota Magazine founder Dan Denton recalls the lessons he learned growing up along U.S. 41.
DEPARTMENTS
Thirty-five for our 35th —the story behind our Sarasota stories. By Pam Daniel
The Heat Index
People, issues and events on our radar, including how to celebrate Cinco de Mayo and Sarasota's best margaritas, top tickets, Carol Tisch's shopping finds, chef Judi Gallagher's dish, Heather Dunhill's Fashion IQ, Party Girl at the Asolo Rep Annual Gala—and more.
Time-travel with Mr. C back to the Sarasota of 35 years ago.
Luxury Home
The latest news in real estate and design.
Words from Dr. Ruth, NFL fitness and more. By Hannah Wallace
Food and Wine
John Bancroft enjoys two very different Italian experiences at Mediterraneo and Flavio's. Plus: Victoria and Michael Calore of Mozzarella Fella, and a good deal at Sax Burgers & Sandwiches in Bradenton.
Only in Sarasota
Illustrator John Pirman on the airstream trailers at the Sarasota Fairgrounds.