Article
Party Girl: Rumbling with the Thunder by the Bay Crowd
Our Party Girl, Veronica Pastore, makes the rounds at the 2014 Thunder by the Bay kickoff party at Hyatt Sarasota.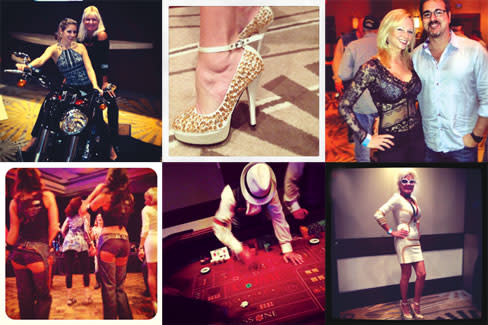 Leather. My overwhelming impression upon arriving at the Thunder by the Bay kickoff party at the Hyatt was of middle-aged people in spiky things and leather. Not the most welcoming sight ever, but I ambled into the crowded, noisy ballroom just in time to catch the end of a Harley-Davidson-themed fashion show presided over by a shouting announcer.
For those who haven't figured it out, Thunder by the Bay is an annual motorcycle festival centered on a downtown rally over one rumblingly loud weekend. The whole shebang benefits Suncoast Charities for Children, a nonprofit with a nearly 30-year history of serving children with special needs in our area, disbursing funds to organizations like Loveland Center, Community Haven and Special Olympics. SCC has constructed more than $14 million in facilities for these agencies, and events like Thunder by the Bay, with an estimated 90,000 attendees over the weekend, are a huge part of Suncoast Charities for Children's ability to fund them.
The party I went to at the Hyatt, the night before the thousands of choppers would descend upon Main Street for the downtown festival, was a reasonably priced $25 a head, with lots of opportunities to spend extra money and help the organization. A silent auction with a bunch of motorcycle-themed goodies, cash bar and food stations around the room, and casino-style gaming tables all beckoned seductively. So did the many gleaming bikes parked around the room with "Please do not sit" warning signs placed on them.
Determined to get myself on one of them for at least a picture, if not a ride, I began to hunt for Paul Teutul, aka "Senior," the founder of TV's Orange County Choppers and special guest at the festival. I looked him up beforehand, planning to recognize him by his Fu Manchu, but there were just. So. Many.
Instead of finding Paul Sr., I noticed an empty craps table and made friends with the dealer, George. It was my first time, so he talked me through the basics of the game, using that cool little stick with an L—I learned it's called the "mop"—to push the dice around the table with ease. I rolled a few times and unaccountably started to win! More players joined, and as the dice went around the table, a fun, jovial feeling developed amongst the lot of us as different players rolled, win or lose.
The band Kettle of Fish kept us grooving at the craps table with a variety of tunes covering everyone from CeeLo and Stevie Wonder to the Black Crowes and the Rolling Stones. Wandering away from the game, I met Darina Buettner, a resplendently attired 58-year-old expat who loves to party and now calls Sarasota home. Her tight-fitting gold-studded white dress and platform pumps were hard to miss; we talked about where she likes to hang out (Miami clubs) and her philosophy on life ("You must fight! You must keep going.") She sure kept things going on the dance floor, surrounded by a dozen of the effervescent Jäger girls at the party and even pulling her husband, former German heavyweight boxing champ Oswald "Ossi" Buettner, into the fray for some fun with the ladies.
I'd never have pegged Darina for a biker, but she told me she loves motorcycles. So, I was surprised to find, do Erin McWhorter and Jeff Hazelton, both clean-cut young Sarasotans. When I asked if they rode a Harley to the event, Erin explained it was her footwear choice that ended up dictating their ride—no heels on the bike—but she was looking forward to putting on her boots for the downtown event the next night, featuring, among others, Foghat performing live.
Tatti Elness, another young, pretty blonde and about the furthest thing from a motorcycle tough one could think of, also rides a Harley—in fact, she works at the dealership and said that's what she's always wanted to do. Way to go after your dreams, girl!
Another closet biker? Lucy Nicandri, festival director and all-around awesome lady. I've had the pleasure of working with Lucy a number of times over the years and she is just always so nice. Her commitment to her cause and organization and consistent warmth and kindness in doing it are inspiring.
I asked Lucy if we could get a picture together as the night was winding down, and she looked around the room for the perfect backdrop. Spotting one of those beautiful motorcycles on display, she pulled me over towards it and said to hop on, brushing that "do not sit" sign away and climbing on behind me. We posed like pros and then I called it a night, mission accomplished—I finally got my turn on a motorcycle and hopefully helped some local kids while I was at it.
Follow Veronica on your social network of choice, including Instagram, @veronicapastore.
Click here to see more party photos from the Thunder by the Bay kickoff party. >>
This article appears in the March 2014 issue of Sarasota Magazine. Like what you read? Click here to subscribe. >>