Article
Party Girl Hits the Guide to Giving and Boundary Crossers Awards Parties
Our Party Girl, Veronica Pastore, reports back on Sarasota Magazine's 2013 Guide to Giving party and SCOPE's Boundary Crosser Awards.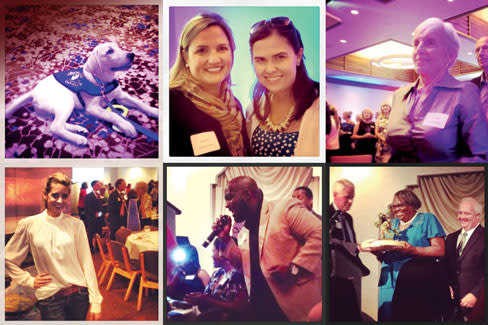 We are a town full of transplants. It's easy to forget this, but nearly everyone in Sarasota comes from somewhere else. The cool thing about this is that we all bring our unique values, histories and interests here with us, and this diversity becomes enmeshed in the fabric of our town.
Look no further than Sarasota Magazine's annual Guide to Giving reception, held this year at The Francis downtown, to see this principle in the flesh. Here are just a few of the guests with whom I mingled over canapés and champagne.
St. Martha Catholic School's director of development, Rebecca Blitz, and principal, Siobhan Young, were impossibly young and fun, nothing like the stern, authoritarian figures I remembered from my days in parochial school. Cat Depot's director of communications, Lynn Rasys, and volunteer and education manager, Corey Roscoe, cozied up at a table talking about animal telepathy, a recent seminar topic at their facility that definitely piqued my interest. I met Selah Freedom president/CEO Elizabeth Fisher and director of operations and strategic partnerships Kindsey Neeson, both transplants whose mission to aid victims of human trafficking coalesced here in Florida, sadly No. 3 on the list of states with the most crimes/victims.
Catholics, cats and caretakers all at one event? Oh, that's just the start. Of course all the local foundations were there, including my favorite director-of-marketing-and-communications-by-day, rock-and-roller-by-night, Sharon Kunkel, of the Community Foundation of Sarasota County. The star of the show was definitely Harriet Pallotto, winner of our "Volunteer of the Year" award.
A spry 81, Pallotto couldn't stand retirement when she moved to Sarasota, so she returned to her roots in nursing by donating three days a week to the Senior Friendship Center (in patent leather heels, no less). Delaware native Pallotto brings a sharp attention to detail to the clinic as well as a sharp sense of humor: While accepting her award at the party, she joked that no matter the age of her male patients, they still want Viagra. "It's true about the Viagra," she said after I congratulated her on her way back from the lectern.
Two more locals who just can't be stopped from helping others, Christine Jennings and Sandra Terry, were honored a few blocks away the following week at SCOPE's Annual Celebration and Boundary Crosser Awards at Michael's On East. Can I just say that I love SCOPE and its mission? Interim director John McCarthy's fast-talking recitation of the many different organizations they collaborated with in the past year—Goodwill, the city, Community Youth Development, and my personal favorite, a collabo with RCAD, bringing art students into their meetings to produce live artistic interpretations—evidence how they are connecting and inspiring citizens to create a better community.
Jody Fountain, Chip Gaylor and Felice Schulaner (more transplants!) all agreed this was quite the feat, though our convo quickly turned to fashion as we traded compliments on one another's impeccable style. Turns out they're all friends with our fashion blogger, Heather Dunhill, and I was beyond flattered when Fountain said I reminded him of her.
My night was truly made, however, when Jennings herself told me I was cute! I've admired her grace and poise since I was a student, waiting tables at one of the fancier restaurants in town, and serving her iced teas and Cobb salads a couple times each week. Turns out Jennings started working at age 17, moved to Sarasota, founded her own bank, sold it for a bunch of money, got into politics and ended up running the Westcoast Black Theatre Troupe, transforming them from a talented but financially insolvent group to a thriving nightly sell-out. Talk about crossing some boundaries.
Then there's Terry, who told us from the podium that she "really didn't know there were boundaries you weren't supposed to cross," when she started her own not-for-profit to help citizens in her hometown of Laurel, while working full time and raising a family. The Laurel Civic Association provides education, social activities, support for the elderly, access to housing and more to its residents, requiring Terry to work with a variety of different businesses, organizations and municipalities in her more than 40 years running the group.
You know what really brings people together? Music. A quartet from the Westcoast Black Theatre Troupe wove through the room, serenading Jennings and Terry after they received their awards and then taking the stage for a rousing performance of (Your Love Keeps Lifting Me) Higher and Higher that had the entire ballroom up dancing. No matter where we're from or which organizations we support, it's moments like this that remind me that we're all doing this together—trying to make our city, and our world, a better place. If Harriet Pallotto were at that party, I have no doubt she would've been dancing and clapping, too.
Follow Veronica on your social network of choice, including Instagram, @veronicapastore.
This article appears in the November 2013 issue of Sarasota magazine. Like what you read? Subscribe to Sarasota magazine. >>