Article
October 2013: Home & Garden Annual
Sarasota Magazine October 2013: Home & Garden Annual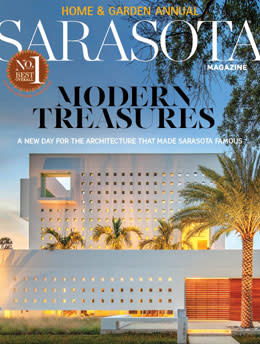 Subscribe to Sarasota Magazine
FEATURES
Could our vaunted mid-century modern landmarks lure architectural tourists? Robert Plunket explores the possibilities.
A renovated Lido Key Sarasota School home strikes the perfect balance for its mid-century-modern-mad owner. By Carol Tisch
An interior designer and her family bring new life to a much-loved Siesta Key home with a history--and a lot of windows. By Ilene Denton
You know the one we mean--that ultra-modern Guy Peterson design on Orange Avenue that's got everyone talking. Ilene Denton takes you inside.
From the grand to the inglorious, our Real Estate Junkie dishes on the most memorable listings of the year. By Robert Plunket
DEPARTMENTS
Our winning stories--and the writers who tell them. By Pam Daniel
The Heat Index
People, issues and events on our radar, including top tickets, a new plan to fix Sarasota's homeless problem, Carol Tisch's shopping finds, Chef Judi Gallagher's dish, Heather Dunhill's Fashion IQ--and more.
Mr. C takes a weekend getaway to some little-known nearby towns.
An interview with "breast cancer warrior" Margo Rey, plus a new fitness workout. By Hannah Wallace
Food and Wine
John Bancroft visits the long-awaited P.F. Chang's, plus a good deal on combo meals at Hacienda Mexican Grill, Sarasota's best fried chicken, the couple behind Anna Maria Donuts and craft beer at Mr. Beery's.